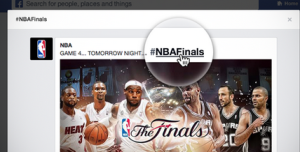 Hashtag singularity is near: Facebook just added the feature to select users' News Feeds in an effort to make the social network even more unbearable.
Upon clicking a hashtag, like "#blessed," a pop up window displays statuses that are collected from Facebookers using the same hashtag. You know, exactly how it works on Twitter, Tumblr, and Instagram since Facebook is now playing catch up.
A post on the site's Newsroom blog explained that hashtags will help people discover useful content.
Hashtags are just the first step to help people more easily discover what others are saying about a specific topic and participate in public conversations. We'll continue to roll out more features in the coming weeks and months, including trending hashtags and deeper insights, that help people discover more of the world's conversations.
At least there's an easy way to find #porn on Facebook now.