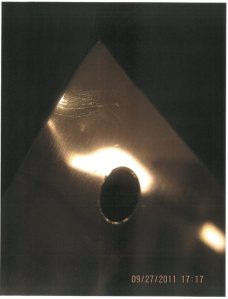 Over at the always terrific Greg.org, Greg Allen has done a deep dive into court documents related to Marc Jancou's lawsuit against Sotheby's and Cady Noland, which was recently dismissed. He found some great dirt!
The suit, you may remember, came about after Ms. Noland disowned a work just before a sale at Sotheby's in the fall of 2011, leading Mr. Jancou, the consignor, to claim that the move cost him $6 million, filing for an additional $20 million in damages. Mr. Allen found new pictures of the work in question, Cowboys Milking (1990), a unique silkscreen-on-aluminum piece that measures four feet by six feet.
Until this dive, the reason for Ms. Noland's disowning the lot wasn't really known, but these court documents state that her discovery of two minor "crimps" in its corners led to her decision. Her actions remain unorthodox but were not utterly without reason, which some might have assumed (in an angry e-mail Mr. Jancou writes that Ms. Noland "has a biased and radical approach to the art market," which goes too far, though most would agree that she has at least a non-standard relationship to it).
Read all of Mr. Allen's analysis here.