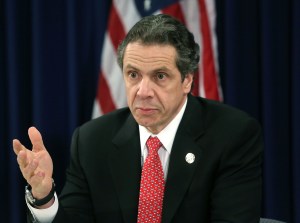 The ongoing break-up saga between Gov. Andrew Cuomo and his former confidante-turned-combatant Fred Dicker continued Monday, as Mr. Cuomo dismissed Mr. Dicker's latest report on office in-fighting as "not credible."
Mr. Dicker reported in the New York Post that the Cuomo administration is being divided by "a war over turf and power" being between two of the governor's top right-hand men: Chief of Staff Larry Schwartz  and Director of Operations Director Howard Glaser.
Sources cited by Mr. Dicker said the battle has spilled over to other staffers, who feel they have to pick sides.
"It's two armed camps on the second floor; you're either with Larry or you're with Howard,'' he quoted one unnamed source as saying.
But Mr. Cuomo slapped down the report as nothing more than fantasy during a radio appearance on The Capitol Pressroom with Susan Arbetter.
"They're not always, totally happy. But there's no intramural fighting going on," he insisted. "It's been a remarkably cohesive group that is personally friends. And any column that suggests otherwise is just not credible. And that column is not credible."
Mr. Cuomo's administration and Mr. Dicker have repeatedly quarreled this year, especially after the state passed strict new gun control measures. In a recent column, for example, Mr. Dicker labeled a top Cuomo aide as an "increasingly notorious spokesman … considered untrustworthy by many reporters." The aide responded by forwarding his email exchange with Mr. Dicker to other reporters.
Mr. Dicker did not immediately respond to a request for a response.
Mr. Cuomo also revealed Monday that he may be willing to extend the current legislative session, if he feels it will help him pass a list of pending legislation, including his women's equality package, an anti-corruption package and legislation that would create tax-free zones upstate.
"I would consider extending if it was a question of time and we could actually get things done," he said, once again defending the equality bill's controversial abortion provision, which has been slammed by conservatives.
"People have a right to know," he said, arguing that, up until now, lawmaker's haven't had to put their views on record. "This is basically are you pro-life or pro-choice? … You're one or the other and that's what this is asking."