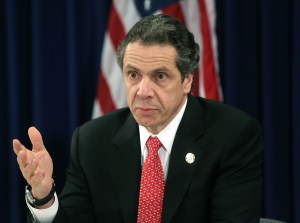 Gov. Andrew Cuomo was forced to try to assure parents that their daughters were safe working in Albany following  a "disturbing" poll out yesterday that found most New Yorkers wouldn't want their daughters to intern in the State Legislature after former Assemblyman Vito Lopez's sexual harassment scandal.
"I want people to know that you can send your daughter to Albany," Mr. Cuomo said during an appearance on The Capitol Pressroom with Susan Arbetter this morning, where he was once again forced to weigh in on the scandal and its aftermath.
In particular, Mr. Cuomo said he was bothered by the survey's findings and what they meant for a state government he has been desperately trying to turn around.
"I have three daughters, as you know, and I sort of see the world many times through their eyes. And that was a really sad statement to me that the people of the state are afraid to send their daughter to work in theState Legislature," he bemoaned. "That was just a human, sort of emotional take on all of this. And I'm trying to do the opposite, which is say, 'Be proud of government.' … It should be an inspirational, altruistic undertaking."
He further acknowledged that Albany has had "a lot of bad press for a lot of bad, venial, disgusting acts among the legislature," but urged members to pass new ethics reform legislation to try to turn the page.
"It's such a beautiful, important institution with such a proud history and such possibility! Such potential!" he raved. "I mean, look at what we have done! Look at the changes we've made! Look at the national changes that we've been a part of. And there's such potential. And to be caught up with this personal,  despicable activity–the incongruity is just really infuriating!"
Still, Mr. Cuomo refused to weigh in on the poll's other major finding:  the majority of voters polled want Assembly Speaker Shelly Silver to step down because of his mishandling of the allegations. The Daily News reported this week on an email excluded from the state ethics report that suggested two of Mr. Lopez's alleged victims were interested in having the Assembly pursue a full investigation–contradicting Mr. Silver's claims.
"I don't get involved, Susan, as you know, with picking the leadership of the Senate or the Assembly," said the governor, arguing that it's not part of his constitutional role.
"They're big boys and big girls and they'll pick a leader," he explained.