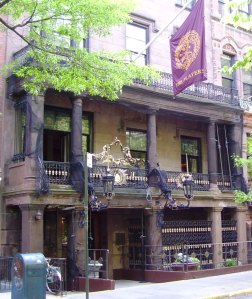 It may be curtains for the Players Club.
After years of fiscal troubles, The Players Club, the storied 125-year-old actors society, might have to put their historic Gramercy Park townhouse on the market. The club is $4 million in debt, and the property owes $250,000 in back taxes. To make matters worse, the townhouse's façade is dangerously decrepit, and repairs were halted for lack of funds.
The sale of the townhouse is a "doomsday scenario" that was put forward at a meeting last week by the club's treasurer, who said that selling the property could keep the club alive, albeit in a new location. DNAinfo estimated that the property could be worth more than $14 million, but Players Club members were not particularly enthused about giving up their sumptuous (if a little cobwebby) digs.
Johnnie Planco, the Players board president and the only remaining board member after a recent spate of resignations, said that the club is working on "creative fundraising strategies" to avoid this undesirable scenario. These would include renting out the space as a venue for shooting films and holding parties, as well as pressing corporate sponsors to shell out for the naming rights to rooms.
"I think everyone is on the same side," he said. "Let's get the club back to where it belongs."
But some members are skeptical about Mr. Planco's plans to save the property. Arlene Harrison, an honorary club member, president of the Gramercy Park Block Association and a trustee of Gramcery Park, told DNAinfo that Mr. Planco should have implemented these strategies long ago.
"He has allowed the club to come into such a dire state of affairs," she said. "I don't think the closing of the club is a long shot. I think it's a reality."
Here's hoping the Players find a solution before the fat lady sings.