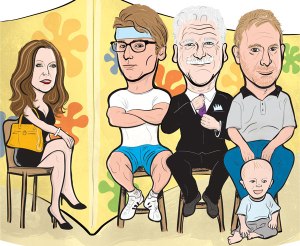 I was at my usual banquette table at Cipriani catching up with my dear friend and fellow gala charity chair, an impossibly blond and glamorous socialite. She looked up, over her grilled salmon and leeks. "Do you have anyone for my friend Leanne? Her divorce just became final."
I recalled a lithe brunette who looked good in Lilly, making the rounds of the Hamptons charity cocktail circuit along with her pint-sized now-ex-husband.
"Is she realistic yet?" I asked.
"I think so."
"Good." I sipped my Bellini.
My friend and I, while an unlikely matchmaking duo, have been informally setting up divorced friends and "children of" on the Upper East Side for years, with solid results. We always say we should charge a commission for our dating service, but that temptingly profitable idea would be too déclassé.
Our biggest challenge, time and again, is matching up middle-aged divorcées in the "pre-realist" stage, who have not realized that they have a choice of sex, money or companionship —but not necessarily all three in the same package.
"How did she make out in the divorce?" I asked my friend.
"All I know," she revealed, "Is that the husband made her include her Birkins as part of the settlement." She added: "At the current retail price." Bien sur!
"She most likely will want the money, then." I paused, Rolodexing in my head the range of the newly wed and nearly dead. As I gave the hand signal for the check, I thought of a few years' divorced friend who could use a chatelaine for his manor, and she was an ideal prospect.
"Oh yes, I think I have a good old-fashioned septuagenarian billionaire in Palm Beach for her. Not exactly scintillating, but his real estate portfolio has a personality all its own."
"Perfect," she said. "I'll call her with the good news."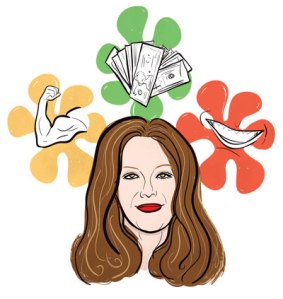 A few years back, I co-wrote a fairly well-known relationship book for women called Closing The Deal; the premise was that two married men's advice could help turn single women into deal closers. While we had no formal training as relationship experts, we just implicitly understood that if women understood men better, they'd have a better shot at closing the deal. Knowing your audience is always key, whether personally or professionally, and we offered advice on topics from hygiene to foreplay.
Where most rich divorcées fail is in assuming they can replace their husbands with a newer model pretty much like the old one. Sorry to say, this tends not to be the case. Most of the time, the divorced well-to-do male is not looking for his equal, but rather for a sexretary from the Midwest, preferably without an opinion. As one recently divorced hedge funder told me: "Being married to a smart, opinionated woman is work! Now I just want tits on a stick, a blonde wig and someone to tell me I'm great when I get home."
Women who take a tough line often wind up lonelier for it. At a political fund-raiser, my wife Dana and I were chatting with a well-regarded financier's ex-wife, who clearly exhibited pre-realistic dating tendencies. She laid out her requests like the Marshall Plan: "My age or younger. I won't date a geezer. Rich—the richer the better. Sexy.  Okay, let's just cut to the chase: my ex if he had abs and a personality."
"Don't you think you shouldn't have a list?" Dana asked innocently.
"That's for other people," she snapped.
She is still on the prowl.
Far more successful are those who focus on just one wish-list item, for instance sex. Assuming the woman is not completely devastated, pulling a Mrs. Robinson is a popular rebound maneuver once the lawyers have retreated and the paralyzing legal battle becomes a bitter memory.
Seducing younger men works out well for one rock star's ex-wife I know, who prefers bedroom sizzle over an eight-figure net worth. Over lunch at Da Silvano, she professed to not care about money, which apparently is a British thing. (Not that she has an unlimited budget for couture.)
"I'm English," she said. "We don't like money. It's vulgar, never to be discussed."
"So you're not interested in a man with money?"
"Not at all. I'm into spontaneity. The younger the better, 25 to 30.  It's a win-win. They're in awe."
"Of …?"
"My experience."
Notable hookups for such divorcées include affairs with French or Italian baristas, a Roman Casanova who preys on the newly divorced (despite good tailoring, he's over-committed and overdrawn) and the occasional Moroccan rug salesman. ("She got a ride on his flying carpet!")
More common are the standard-issue service-industry providers: the omnipresent trainer, manny, male or female yoga instructor, Hamptons carpenter, contractor, driver, plumber, beach club attendant (for real Mrs. Robinson cred) and tennis pro. Since trainers are allowed an all-access pass to the family compound, they frequently help their clients lift and separate in different areas during the a.m. and p.m.
"Why is the trainer the obvious choice?" I asked a leading member of the clergy who confirmed the trend. "I think it's accessibility and availability," he said. "If there's a man close by, it's affirmation, and it's exciting for them. I have seen women relatively happy for a period in this arrangement."
When finances aren't important—but sex isn't either—another option is "the warm body," a common choice among the older set that also has its appeal for the career woman.
The warm body tends to be the straight man's version of a walker: he may be dull as a month-old razor, but he provides an audience, especially to women who really want to do all the talking.
"Having a companion is nice. I already took care of a man once before," a Madison Avenue matron remarked, opening her Bottega Veneta wallet and plucking her ATM card. "Dinner, a movie, a cruise, prop him up in a chair, and away we go," she smiled. "He doesn't say much, but I find he hangs on my every word."
Even younger women agree, "I just need him to change a lightbulb now and again," said a friend.
"Sex?" I asked.
"Whatever," she shrugged.
Not every divorcée, of course, is in a financial position to while away her days with the cabana boy (or his friendly, benign father), and some must resort to mercenary tactics to avoid expulsion from the golden triangle of Park Avenue, Sagaponack and St. Barths.
"I wake up in a cold sweat that I'm only going to be able to afford a white brick building on 57th Street or a four-bedroom in the Financial District," my wife's friend lamented outside spin class. "Getting divorced is bad enough; the real estate downgrade is the final straw."
Contrary to popular misconception, just divorcing a rich man doesn't necessarily leave one set for life. I put a call into an old friend who has a reputation as one of New York's toughest divorce attorneys. One of his three assistants put me through.
"You next?"
"Sorry to disappoint," I joked. After brief pleasantries, he told me business was booming now that couples can almost afford to part ways, and he laid out the economics.
"Okay, let's be clear: if the woman has the real money in the relationship, she can do whatever she likes." That said, that's not most women.
"So let's just say you're a relatively affluent couple in the 20 to 25 million range. By the time the lawyers take their eight-figure slice and the mortgages are paid off when the residences are sold, she might end up with a six- or eight-million-dollar check. It sounds like a lot of money, but that's it for her, unless she marries again. A conservative 3 percent on six million—$180,000 a year—is her clothing allowance from her once former life."
"So then what happens?"
"The ones with younger kids get alimony and child support. But the smart ones end up with the best 60-year-old they can find."
"And if they don't?" I asked.
"There's always Boca Raton," he said.
I was heartened to hear one last and affirming category surface above 57th Street. These are the women who, empowered by divorce, want a real relationship centered around their kids.
A leading divorce consultant (a businesswoman who acts like a general contractor for people going through the process) had this to say:  "There are those women who want a man to take care of them. Then again, there are those women who say, 'I can do this,' and just want a nice, normal guy who loves kids. Someone to provide their children with a moral compass."
"So how do people meet guys like that?" I asked. "Do they fly coach or business instead of first?"
"If they start working again, they might meet them in the office or at a kid's baseball game, for example. There are healthy relationships out there," she said. "From what I've seen, the women who get jobs afterward meet better men than the ladies who continue to lunch."
I have one successful female friend who met and married a very nice family guy who was moderately successful. The only prerequisite was a makeover: better shoes, a nice belt and no dad jeans.
I was getting the financial papers on Sunday on Lexington Avenue when I ran into an acquaintance, a high-end real estate broker who specializes in white shoe co-ops; he was listing an exclusive Park Avenue 12 with southern exposure.
"It just came on the market. You know death and divorce are the best things about real estate in this city," he said darkly.
"Whose apartment is it?"
He mentioned a high-profile couple who had recently split.
I remembered the fabulous layout. "She doesn't want it?" I asked.
"She can't afford to buy him out."
"Too bad."
"I know. If she's smart, she'll get down to business and land an oligarch for papers," he joked. "You know some of these women are like the real estate themselves. They come on the market, too many showings, sit too long without a bid and then the product gets burned."
Luckily, no such fate awaits two newly minted and very eligible divorced people I introduced in February at our annual Valentines Day Jazz Brunch, where we served up a torch singer and made-to-order omelets to a variety of guests. Both parties have interesting careers, in addition to having children.
"You two should know each other," I literally hip-checked the lanky European businessman into view of my friend, a lovely entrepreneur. A friendship and fireworks ensued. Perhaps they had the advantage of finding each other when they were both considered fresh listings, new to the market, in prime Fifth and CPW locations. They snapped each other up.
A thank-you text appeared on my phone just yesterday revealing summer plans for the new couple: first a romantic trip to Anguilla, then two weeks in Cap Ferrat. Not only is love in bloom on two continents, but the very best thing is that in spite of it all, they won't have to move to Florida.
__________________
Observer columnist Richard Kirshenbaum is the CEO of a new venture, NSG/SWAT. He is also the author of Madboy, a memoir, as well as Closing the Deal, a relationship book for women.