If you harbor childhood memories of Snow White and would prefer their innocence remains intact, avoid the Park Avenue Armory this summer. A few minutes inside "WS," artist Paul McCarthy's staggering new project, which opened there earlier today, will be enough to make you never look at Dopey the same way again.
If, however, the prospect of spelunking through the weirdest corners of Mr. McCarthy's subconscious—a Boschian realm that lays bare the sinister side of fairy tales, subverts American domesticity with unhinged humor, and involves enough debauched sexuality to send any mental-health professional screaming from the room—appeals, get to the Drill Hall.
"Let's be real, it's an extremely, extremely rough film," said the Armory's consulting curator, Tom Eccles, as he smoked a cigarette outside the building following a press preview on Tuesday morning. The main video component of "WS," which is projected on eight billboard-size screens, retells the story of Snow White over the course of seven hallucinatory hours during which Walt Disney (played by Mr. McCarthy) parties with the titular maiden and her seven diminutive friends. It's highly sexual, but not about satisfaction as much as it is about delirium and, in Mr. Eccles's words, "the denial of sex."  The enormous space, floored with carpets from Disney hotels, echoes with wild shrieks and howls as the characters fellate balloon animals, cover one another in condiments and bang out drum solos on metal pots and pans.
The video was filmed in an exact three-quarter-scale replica of Mr. McCarthy's childhood home and in a massive manmade forest featuring grotesque 30-foot trees, both of which are installed in the center of the Drill Hall. Small side rooms house additional screens (and additional content warnings), due to their especially graphic nature, while other rooms throughout the Armory feature models of the installation, other videos such as the dendrophila-filled White Snow Mammoth and a "Walt Paul" store brimming with Snow White merchandise—wigs, water bottles, kitsch figurines and posters signed by Mr. McCarthy.
"This is Paul McCarthy without stops," said Rebecca Robertson, president and executive director of the Armory, as she stood in front of the installation.  "He's put himself out there 100 percent and I think it matters to him how it's perceived and the effect that it has. I think it's risky in that way."
The Armory, led by Artistic Director Alex Poots, Visual Arts Curator Hans-Ulrich Obrist and Mr. Eccles, commissioned "WS" last April without knowing exactly what direction it would take. "I think there was always a question with the work, how graphic it would become," said Mr. Eccles. "That was an unknown." Three hundred hours of video and millions of dollars later, the result is like nothing the Armory has presented before.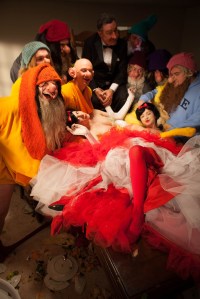 Mr. Eccles said he was personally shocked by parts of the project. "I've never seen a man masturbating before. You know? Or certainly not with a dummy," he said, referring to one video, The Prince Comes, that involves Prince Charming interacting with a silicone life cast of Elyse Poppers, an actress who plays White Snow and who has worked with Mr. McCarthy on numerous other projects (including "Rebel Dabble Babble," which opens at Hauser & Wirth tomorrow night). Despite the sexual content, both Armory staff and members of Mr. McCarthy's studio stated that nothing was censored nor deemed inappropriate for the venerable institution.
"Just because it's darker doesn't mean it's not valid," said Ms. Robertson. "It may be difficult—really difficult—but I think that artists have been depicting hell since art began, and this is a very contemporary version of it."
The process of making "WS" extended well beyond the edges of the forest for Mr. McCarthy and his team. "Even in his studio, in meetings, he was in character. The whole meeting!" said Mr. Obrist, talking rapidly over the videos playing around him. Ms. Poppers and another young woman, both wearing black wigs, red lipstick and primary-color princess dresses, danced across a nearby screen.
"White Snow was there," chimed in Ms. Robertson excitedly. "She was making balloon dogs, and I have this beautiful picture of Hans-Ulrich, and we're trying to have a meeting, and she's putting the balloon dogs on top of his head and saying 'Oh! How interesting! Oh! How controversial!'"
"It was a very good meeting," said Mr. Obrist nodding. He said that, like nearly everything in Mr. McCarthy's studio, it was filmed from multiples angles.
"We got cut; we're not in the movie," said Ms. Robertson sounding just a trifle disappointed.
On the screen directly above her, the bacchanalian fête continued to unfold. One of the dwarves crawled around the model living room wearing nothing but a canary yellow UCLA sweatshirt. He paused near the sofa, sniffing it with his bulbous prosthetic nose, and pantomimed urinating like a dog. Soon Mr. McCarthy, dressed in a tuxedo, was doing the same.
"We've all been to parties like this where we don't know if we look like this because we're too drunk," said Ms. Robertson.
At the VIP opening that night, visitors circled the reconstructed ranch house, peering through windows and holes cut in the walls at the aftermath of the filming—unmade beds, empty whiskey bottles, naked sculptures of Mr. McCarthy and Ms. Poppers, a kitchen strewn with Campbell's soup cans, ketchup and chocolate syrup. While a few ruffled viewers could be seen hastily leaving—"This is outrageous!" whispered one woman—most looked transfixed as they watched the strange performance unfold.
"It's a machine for altering consciousness," said Mr. McCarthy at a low-key after party, which was held at a nearby bar, where cast members and studio staff ate sliders and ceviche. "Resistance," he said, "is important."