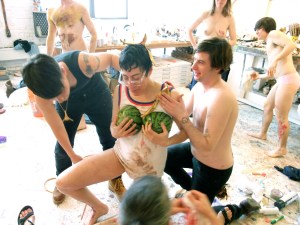 Dirty Looks, which hosts monthly screenings of queer film and video around New York, just released details of its On Location festival, which will bring film presentations to a different venue each day of July. It looks like it will really be something.
Among the events on tap are Merce Cunningham's Variations V on the High Line, A.K. Burns and A.L. Steiner's Community Action Center (created with Fire Island Artist Residency) at the Cherry Grove Community House on Fire Island, N.Y., and Ken Jacobs's Star Spangled to Death at Spectacle in Williamsburg.
The list of artists and filmmakers whose work is being presented is pretty great. It also includes Narcissister, Gregg Bordowitz, Harry Dodge, Barbara Rubin, Pedro Almódovar, Rashaad Newsome and Andy Warhol, whose 1964 film Taylor Mead's Ass will be shown in MoMA's sculpture garden.
The curatorial committee for this year's festival is as follows: Sam Ashby, Claire Barliant, Brian Droitcour, Scott Ewalt, Alex Fialho, R. E. H. Gordon, David Everitt Howe, Clara Lopez, Tiffany Malakooti, Karl McCool, Konstantinos Menelaou and Bradford Nordeen.
The full lineup is available over on the On Location website.
Can't wait!