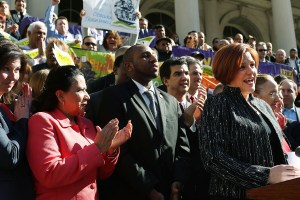 City Council Speaker Christine Quinn has long been accused of using the Council's budget as a tool to punish those who cross her and keep members in line. But, as member item allocations have come under increased scrutiny in light of the mayor's race, Ms. Quinn appears to have changed course.
Sources familiar with the camps of three of Ms. Quinn's most vocal critics in recent months told Politicker Tuesday that their member allocations–which fund local community non-profits, including senior centers and after-school programs–will either remain steady or tick up slightly, according to preliminary numbers shared with their offices this week.
Queens Councilman Peter Vallone Jr., who has repeatedly accused Ms. Quinn of slashing his funding back in 2011 after he vocally opposed her plan to re-name the Queensboro Bridge after former Mayor Ed Koch, said he was informed in a meeting with Council staff on Sunday that his funding would remain about the same as last year–marking the first time in three years, he said, that his total has not been cut.
Mr. Vallone Jr. declined to weigh in on the motivation behind the apparent change-of-heart, but said there was simply no more room to give. "They cut me 60 percent over the past three years and it's tough to get blood from the stone," he said. "Any more cuts would have endangered Queens traditions," he said, pointing to examples like an Astoria fireworks display last night.
Still, he added, "The press did an excellent job bringing this issue to light and whether that played a part or not, I don't know."
Another frequent critic, City Councilwoman Elizabeth Crowley, who appeared on a CNN broadcast in March criticizing Ms. Quinn's decision to slash her funding because of a mis-timed press release, as well as in a New York Times story on the subject, also appears to have been spared.
Her office is expected to get "a bit of an increase," according to a source familiar with her preliminary numbers.
It was the same for Bronx Councilman Fernando Cabrera, who said Tuesday he was told his allocation would be the same as the last two years–despite his public threats to bypass Ms. Quinn and force two bills to vote.
"I didn't expect anyone to get cut this year. It's an election year. The press would have buried her," he said. "Why is it that in other years people got decreases, but not this year?"
Ms. Quinn's office has long maintained the allocations, which are still being finalized and are expected to be released later today or tomorrow, have nothing to do with politics. In a statement today, her spokesman Jamie McShane reiterated this position.
"Various factors go into making decisions regarding funding allocations, including each district's needs and the ability of nonprofits to meet them," Mr. McShane said.
Still, Mr. Cabrera noted that some of the poorest districts remain on the lower end of the allocation spectrum, according to his conversations with fellow council members.
"We still have inequities. We have a lack of fairness. Poor communities keep getting less," he said. "There's something fundamentally wrong with it."