Leah Wolchok and Davina Pardo are two filmmakers who have stumbled upon a great niche market for Kickstarter fundraising: People who will pay good money for the street cred of being associated with New Yorker's highbrow, non sequitur comics. People like this, basically.
Don't think there is a huge market for a doc of high-minded cartoons? So far, Very Serious has raised $76,814, and still has 69 hours to go before completion. But that may be due to the great gifts associated with each pledge level, which go way beyond the normal PBS or NPR tote.

[protected-iframe id="fc586b334f3feb8be933b218b21846ef-35584880-35147716″ info="http://www.kickstarter.com/projects/630664473/very-semi-serious/widget/video.html" width="480″ height="360″ frameborder="0″]
According to the pledge page, there is only 1 available spot left to give $1,000 (out of the original 10 being offered), which includes a grab-bag of goodies like: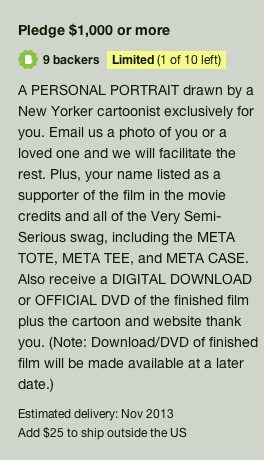 That "meta" iPhone case features a limited edition cartoon from Roz Chast, by the way, elevating swag to a piece of priceless art. Of course, for $10k, you can get your producing credit ("on IMDB!"), and a signed print from a New Yorker cartoonist, though not, unfortunately, the personal portrait. So dig out your wallets; you'll want to pledge twice.