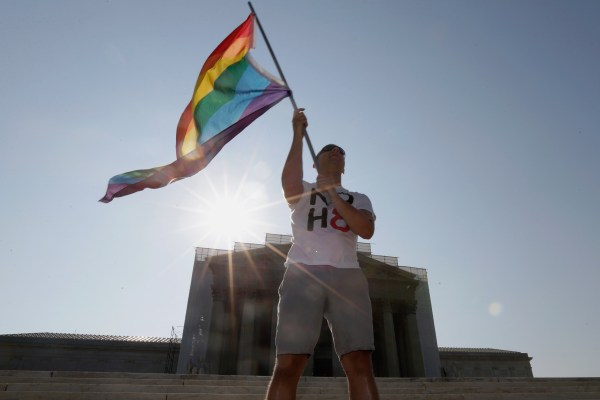 Today the United States Supreme Court issued a monumental pair of rulings to expand gay rights, deeming section three of the Defense of Marriage Act, a 1996 law denying federal benefits to legally married same-sex couples, unconstitutional.
The justices found in favor of Edie Windsor, who sued the federal government for failing to recognize her marriage to partner Thea Spyer. After Ms. Spyer's death, Ms. Windsor was forced to pay more than $360,000 in estate taxes that she would not have had to pay if she had been married to a man. Ms. Windsor's attorneys argued that DOMA denied her and other married same-sex couples equal protection under the law guaranteed by the United States Constitution.
Same-sex spouses will now be eligible for the same federal benefits as heterosexual couples, thanks to the 5 – 4 decision. Justice Anthony M. Kennedy wrote the majority opinion.
"DOMA violated the fundamentally American principles of fairness and equality," Ms. Windsor said. "Because of today's Supreme Court ruling, every child born today will be able to grow up in a world without DOMA – a world where the federal government won't discriminate against their marriages no matter who they are. I know Thea would have been so happy and proud to see how far we have come in our fight to ensure that all gay and lesbian couples are treated with the dignity and respect that they deserve."
In a statement, Manhattan District Attorney Cyrus R. Vance said, "As a prosecutor, I have seen the harm that discrimination—based on gender, race, religion, or sexual orientation—has on individuals and communities. When the law treats citizens unequally, it sends the misguided and dangerous message that discriminated individuals do not deserve the same respect, protection, and treatment as others. The Supreme Court's historic decisions uphold our nation's commitment to equal protection under the law for all citizens."
The court also ruled that opponents of same-sex marriage did not have standing to appeal a lower-court ruling that overturned Proposition 8, California's ban on same-sex marriage. The court did not, however, issue a blanket ruling on the constitutionality of same-sex marriage that would affect laws in other states.
Today, same-sex marriage is legal in 12 states, not including California.