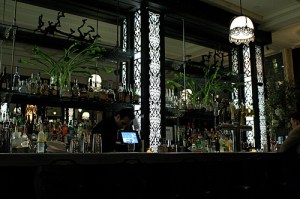 In a move that's leaving many Brooklyn-based foodies with whiplash, Dressler, the beloved South Williamsburg eatery, announced today that it would be closing its doors immediately.
Their website has been emptied of content except for a statement that reads, "With much regret, an agreement could not be reached for a lease renewal. To all of our talented staff and to our customers, our friends, thank you for your loyal support… We close the doors to one of NYC's most beautiful dining rooms with mixed emotions."
The seven-year old restaurant was known for its classic, somewhat pricey fare, a mix of burgers and upscale dishes like Peconic Bay scallops, pan seared striped bass, monkfish osso buco and Long Island duck breast. It garnered a two-star review from New York Times food critic Frank Bruni in 2006, when the Williamsburg foodie scene was still little more than a twinkle in a hipster's eye.
"I was smitten by the dashing setting, a nexus of old-fashioned elegance and contemporary whimsy," Mr. Bruni wrote. "With a zinc bar up front, a mosaic tile floor and big mirrors along one wall, Dressler has some of the vibe and shadings of a brasserie. But it also has mesmerizing metalwork […] that gives the dark room a romantic, seductively spooky charge."
Eater noted that "things at Dressler didn't seem quite right on recent visits, with meals there having been marred by poor service and lackluster food. Still, the place was real destination dining in the area for a long time, and the shutter is a big shock to the South Burg."
Dressler's legacy in Williamsburg lives on with the Devlin Metro Group-owned Dumont and Dumont Burger.