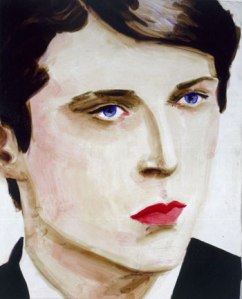 The Financial Times put designer Dries Van Noten and artist Elizabeth Peyton in a room and came out with this exchange:
EP: Did I know that? I don't remember that. Which one?
DVN: It was the men's collection from spring/summer 2009 [shown in June 2008], and the painting was called "Democrats are More Beautiful" from 2001. The painting had a feeling of precision, and a clarity of colour I really liked. So I put it on the table and said to my team, "This is next season. Do something. What's the story of that guy?" And some of them played with the colours, others with the lifestyle … When I see your work, it feels very intimate but also layered at the same time. And I feel I haven't gotten through many layers of Elizabeth.
EP: You have no idea!
Well, there you have it. Listen, it's a slow day around here.