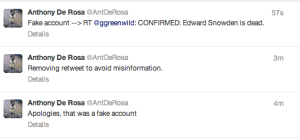 Anthony De Rosa, former Reuters social media editor and soon-to-be editor in chief of Circa, tweeted that NSA whistleblower Edward Snowden was dead.
"CONFIRMED: Edward Snowden is dead," Mr. De Rosa retweeted, assuming that the tweet came from Glen Greenwald, the Guardian reporter who broke the NSA story, when in fact it was a fake account purporting to be from Mr. Greenwald. Rumors of Mr. Snowden's death, apparently, were greatly exaggerated, especially since the Twitter feed that Mr. De Rosa retweeted misspelled the Guardian reporter's surname as "Greenwild."
The bio of the fake "Greenwild" account includes a link to The Internet Chronicle, a satirical news site that's part of the Internet culture associated with sites like Reddit, 4chan and Encyclopaedia Dramatica. The latest story on The Internet Chronicle is "Edward Snowden dead in apparent drone attack," so the parody "Greenwild" account seems to be a way of trolling mainstream journalists (like Mr. De Rosa) and driving traffic to the satirical article.
Realizing his mistake, Mr. De Rosa quickly amended his tweet: "Apologies, that was a fake account," he wrote, before deleting the retweet in question. By then, though, it was too late. People on Twitter had already seen the tweet and began riffing on it and Mr. De Rosa's subsequent apology.
For the record: Mr. Snowden is not dead. And Mr. Greenwald's name is spelled with an "A" not an "I."