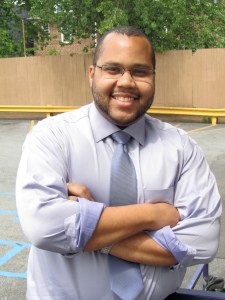 Nelson Castro and Victor Pichardo have a few things in common. They're both ambitious, Dominican-American and hand-picked candidates of the Bronx Democratic machine.
But Mr. Pichardo, 28, is hoping to traverse a very different path than Mr. Castro, the fallen former Bronx assemblyman revealed in April to have been a wired-up informant for almost his entire Albany tenure.
Forced to resign his West Bronx seat in April, Mr. Castro has created a rare open race in the borough where the diplomatic Mr. Pichardo, backed by the Bronx Democratic Party and powerful labor unions like the Hotel Trades Council, is poised to win in September.
First, he needs to convince voters that he is not another Mr. Castro, or any of the rogue's gallery of Bronx politicians that have betrayed the public trust in the past quarter century.
"We just need better representation," Mr. Pichardo, a former staffer to Senator Chuck Schumer and Bronx State Senator Gustavo Rivera, told Politicker Tuesday. "I'm personally sick and tired of having folks run for office and do nothing basically. They say they're helping our community, but nothing really changes."
Even-keeled, Mr. Pichardo was hesitant to bash Mr. Castro directly. Portrayed by New York magazine as a charismatic but delusional assemblyman, Mr. Castro led a double-life after he was indicted for perjury the summer after he won his seat in 2008. The Bronx district attorney and later the U.S. Attorney's office allowed Mr. Castro to be an informant instead of facing prison time but with a key caveat: he would have to resign as soon as the federal government ordered him to do so. When Mr. Castro's undercover efforts led to the arrest of fellow Bronx Assemblyman Eric Stevenson in April, Mr. Castro abruptly resigned.
Mr. Pichardo said he could only shake his head.
"I like Nelson, he's a good dude, he's very charismatic," Mr. Pichardo said. "The thing is, before any of this stuff broke, my feeling was that at the end of the day, we need to make sure that whoever represents us does a good job and articulates effectively because we need particular resources."
"Unfortunately, Nelson's shelf life in the Assembly was very finite and he did a huge disservice to the community," Mr. Pichardo added, emphasizing he was not trying to "throw Nelson Castro under the bus" in the interview. "There needs to be stability in one way, shape or form in that particular seat. As much as I personally like Nelson, he knew for a fact he couldn't offer stability and that's committing a disservice."
Mr. Pichardo, who grew up in the shadow of Fordham University and attended SUNY Buffalo, was more eager to talk about himself than Mr. Castro. He lamented the poverty that still grips the Bronx and the struggles that young people like himself faced growing up there. Often feeling disconnected and disillusioned with political power structures, they don't see the force of good that government can be, Mr. Pichardo said.
That changed for Mr. Pichardo a decade ago, when tragedy suddenly and unexpectedly brought Mr. Schumer into his life.
A cousin, José Gutiérrez, who served as an auxiliary police officer and drove a livery cab to pay his way through John Jay College, accidentally bumped the muffler of a motorcycle in April of 2001. The motorcycle rider, biking with a gang, began harassing Mr. Gutiérrez, then 23, eventually stabbing him to death. The murderer fled to the Dominican Republic and then to Belgium. Taking a personal interest in the case, Mr. Schumer led a successful effort to extradite the killer from Europe to face prison time here. A teenage Mr. Pichardo was awe-struck.
"I was like any other kid, I knew about the government, the three branches and not much else. But I had a direct experience," he recalled. "When the right people are elected to office, they can make a long-term, lasting impact." Later, he became an intern in Mr. Schumer's office.
Now, Mr. Pichardo is the party's candidate up against four Democratic opponents, including a Castro–backed attorney named Keny Nuñez. But he doesn't want anyone to think he's another drone spit out by the once-notorious Democratic machine.
"My heart's in the right place and I'll be a good representative for the area–it's not because I was picked out of a hat somewhere," he said. "That's ridiculous and honestly stupid. At the end of the day, people are going to have opinions and thoughts without having a conversation with me, which is unfortunate."