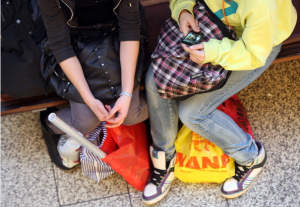 Despite the convenience of online shopping, teens are still heading to malls in droves. Where else are they supposed to harass old people and flagrantly make out?
A study found that 78 percent of girls and 75 percent of boys said they'd rather shop in brick-and-mortar stores than online, Pew Research Center reports. Behind the study are the grownups at Minneapolis investment bank Piper Jaffray, who regularly take stock of teens' spending patterns and entertainment habits because you kids keep them young.
Hanging out at the mall has become an American rite of passage, right up there with teen pregnancy and mass incarceration, so it makes sense that teens are clinging to this cultural holdover from the 1980s. After all, as Gretchen Wieners has said, "you wouldn't buy a skirt without asking your friends first if it looks good on you," and sometimes a link just won't do.
Also, 61 percent of teens said they'd rather watch a movie in a darkened, chaperone-free theater than stream it digitally because duh, you can't actually get to third base via Snapchat.