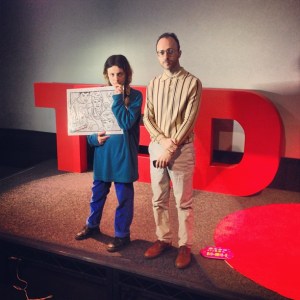 Nimrod Kamer, he of the fake Obama birth video and Finger Hashtag controversy, is back and better than ever. Last week, Gawker's John Cooke posted a video "Must-Watch TED Talk On Monetizing Wikipedia," in which Mr. Kamer discusses his business plan for making money off of lying about celebrities on their Wikis. "You should Wikipedia edit the change you want to see in the world," Mr. Kamer tells his audience before giving an example involving "fashionista" Derek Blasberg ("He told me he was the voice of his generation. Or a voice of a generation…of the fashion generation,") and The New York Observer.
Now Mr. Kamer has expanded his "TED(µ)" channel to include far more than just Wiki editing (a service he does, in fact, offer), and gave us an exclusive of Billie JD Porter (host of Channel 4's The Joy of Teen Sex) performing "an exploratory dance that turns an internet meme phenomena back to its original GIF form."

Poverty In The Cloud
[vimeo http://www.vimeo.com/68347701 w=500&h=281]
We recommend presenting your parents this video as an explanation when they start asking about this "Buzzfeed" thing they've heard so much about.
The original "Wikiedit The Change You Want To See In This World":
[vimeo http://www.vimeo.com/68301435 w=500&h=281]
(Videos shot and edited by Tom Bell)
Mr. Kamer emailed The Observer with the following message about his social satire:
I'll make these points:
1. Funnily enough I actually do charge writers/architects for wiki-services IRL, just not particularly the persons I mention in my Talk.

2. TED is the most knowlavish members club to be in. I finally got in. A ticket costs between $6K to $12K. See attached.

My life goals have always been: a) Become Verified on Twitter. b) Get a LinkedIn Premium Account. c) Be on TED.

2. Many Gawker commenters still believe my TED is an actual TED.

3. I'm renting my T/E/D letters, built by woodman Vicente Ben, to others who may wish to make their own TED.

4. I've used audiences from real TED Talks on by recording them from Youtube, and by that learnt that TED too lie a bit when editing crowd reactions and applause.

5. Mine and Billie's TEDs filmed and edited by Tom Bell. Billie's TED is abstract, like many real TEDs are.
Mr. Kamer also claims that TED has not sent him any sort of warning about using their label for his satirical videos–which bear a passing resemblance to OnionTalks, although more conceptual–and hell, if you believe that, you might want to check your Wikipedia to make sure it hasn't been edited recently.