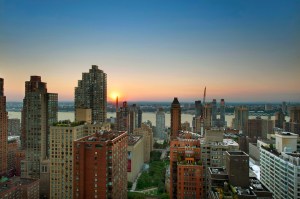 If at first you don't succeed, then try, try—to rent. That seems to be the strategy of 15 Central Park West condo owner Leroy Schecter, whose ideas about what to do with his 35th-floor condo combo in the limestone tower are as fleeting as a price record during a New York City property boom.
First there was the $95 million ask, which would have made it around the most expensive in the city (One57 and 432 Park penthouses have contracts signed for around the same price, though the exact figures haven't yet been made public). Then there was a $10 million reduction to $85 million, which didn't even last a month before the listing was pulled from the market.
"The owner finally—he hadn't even seen it during the construction—went to see and he fell in love. He decided he was going to move in," CORE broker Emily Beare told The Observer at the time.
But love is a fickle thing: the metal magnate is now trying to rent out the property for $125,000 a month. It wouldn't be the first love affair killed by cohabitation. Or in this case, inhabitation.
Though it's definitely one of the most expensive rentals in the city, it's not an unheard-of price. Margaret Bay has been known to rent out units at the Waldorf Towers, the "hotel within a hotel" perched on the uppermost floors of the Waldorf Astoria, for $140,000 a month. The Astor Suite at the Plaza was once asking $165,000, later reduced to $125,000 (it has since rented for close to $125,000, Douglas Elliman Melanie Lazenby told us), and the Woolworth Mansion on East 80th Street was once asking $165,000.
But without the hotel-like amenities of the Waldorf Towers, can Mr. Schecter and Ms. Beare pull off $125,000?
While the apartment certainly has the views for a six-figure monthly rent, we're not so sure it's got the layout. The listing boasts that it's 15 CPW's "only post-construction combination unit," but we can't decide if that's a good thing—original layouts are often the loveliest (one broker was highly skeptical of the combo, exclaiming,"that's horrible!").
Combos can sometimes have a bit of a cobbled-together feel, and Mr. Schecter's five-bedroom spread is not the most elegant amalgamation: the tenant would have to pass through no fewer than five separate doorways to get from the master bedroom to the bathroom, and would experience prolonged hunger pangs before reaching the kitchen for a midnight snack.
And then there's the competition. Given that Bill Ackman and his group of investors do not intend to actually live in their $90 million-plus penthouse at the under-construction One57, we sense another trophy rental coming onto the market once the cascading blue waterfall opens for business.