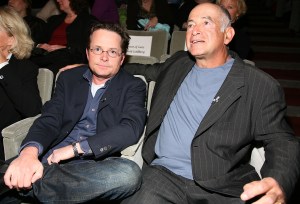 In the 70s, Brooklyn-born writer Gary David Goldberg once spent a year hitchhiking around the world with his future wife and his black Labrador Retriever, Ubu. That in and of itself is no small feat, and had it been Mr. Goldberg's only claim to fame, he probably still could have gotten him a book deal for his memoir–Sit, Ubu, Sit: How I Went from Brooklyn to Hollywood With the Same Woman, the Same Dog and a Lot Less Hair–which was published in 2008.
But Mr. Goldberg managed to make a name for himself in much more than doggie hitchhiking. The Family Ties and Spin City creator, who passed away yesterday in his California home after a battle with brain cancer leaves behind a legacy that also includes that critically acclaimed (but oft forgotten) series <a href="[youtube http://www.youtube.com/watch?v=5QKm9HODiJE&w=420&h=315]">Brooklyn Bridge, as well as the John Cusack and Diane Lane rom-com Must Love Dogs. He was 68-years-old.

Mr. Goldberg began his career writing for TV shows like Lou Grant, The Bob Newhart Show and M*A*S*H . (The last of which earned him a WGA award for an episode he wrote in 1978.) He won two Emmys–Lou Grant and Family Ties–and was nominated for five more.
Michael J. Fox, who Mr. Goldberg mentored through almost every phase of his career–said goodbye to his friend in a statement to RumorFix:
"With a full heart I say goodbye to my mentor, benefactor, partner, second father and beloved friend, Gary David Goldberg. He touched so many with his enormous talent and generous spirit. He changed my life profoundly. Love to Diana and all of Gary's family."
Mr. Goldberg once told the Archive of American Television that he'd like to be remembered as "a guy who showed up for work and took the chance on finding out whether I could do it or not. … I'd like to think I made my success not at the expense of anyone. Success was accidental."
[youtube http://www.youtube.com/watch?v=9qoMutH2mYo&w=420&h=315]