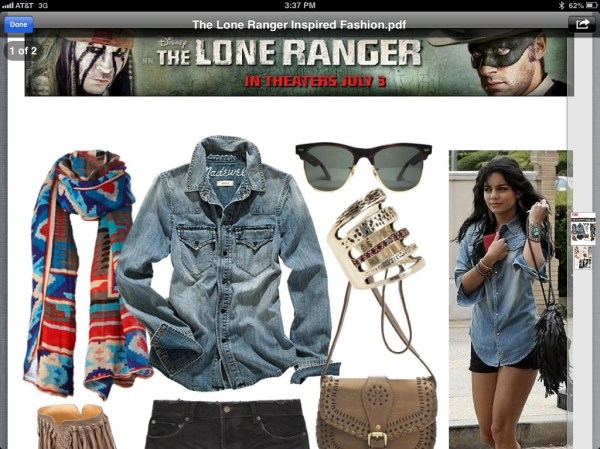 Look, we are sure Disney has its heart in the right place (specifically, deep in the cryogenically frozen vault underneath Space Mountain, one storage unit over from Walt's head), but out of all the movies to start marketing an adult clothing line for, the upcoming Artie Hammer/Johnny Depp feature The Lone Ranger should have been very low on the pile.
Because no matter where you fall on Depp's Tonto as a racist, Native American minstrel show spectrum, we can all agree that adding fuel to the outraged fire by developing a line of "Native American print" scarves as Theodora & Callum have done. We're not judging whether these scarves constitute as "racist"–that's for Jezebel to decide–but with such tricky source material, you'd think brands wouldn't openly be trying to court more potentially hostile publicity.

From the PR email:
We are working with Disney's The Lone Ranger Movie (to be released July 3) on their collaboration with Theodora & Callum on a limited edition "Lone Ranger Scarf". On an overall Bohemia as gone west and celebrities have followed the trend for some chic results. Celebs such as Vanessa Hudgens, Fergie and Minka Kelly have all been seen rocking out this western look. It doesn't stop at cowboy boots (though Nine West's cage leather sandals and suede fringe wedges are definitely on trend) but includes distressed denim, wide brimmed hats, Native American prints (often in the form of Theodora & Callum scarves) and chunky jewelry with semi precious metals from the Great West.
We're a little worried about this fashion mash-up falling under a vague "Western" look: even schoolchildren playing Cowboys and Indians know that the two cultures weren't working side by side to bring future generation a hot new look consisting of distressed denim and "chunky jewelry with semi precious metals."
In a wise decision, there is mention of The Lone Ranger on the designer's website, where the scarves are being sold. (They also double as sarongs, which is very culturally confusing.)