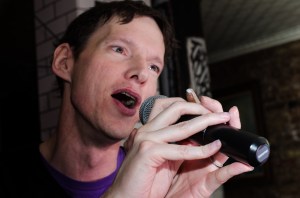 The writer Rob Sheffield and his wife, Ally, had just wrapped up a rousing rendition of "Total Eclipse of the Heart," made famous by Bonnie Tyler, when we realized what we were up against. The bar had been set—this was going to be a serious karaoke party.
Earlier in the day the Transom had committed to singing one song ("Fly Me to the Moon") at Mr. Sheffield's shindig, which was organized to celebrate the impending release of his new memoir, Turn Around Bright Eyes, a paean to the joys of karaoke.
But by the time we got to Heather's in the East Village last Thursday night, we were having second thoughts.
"That's a serious torch song," Mr. Sheffield told the Transom, impressed by our choice.
We wondered if it might be too serious, though. (One mustn't mess with a Frank Sinatra standard unless he's really willing to commit.) Still, Mr. Sheffield assured us it would be O.K.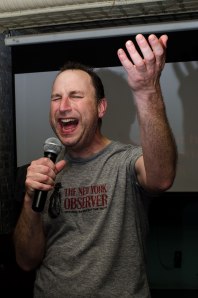 "One of the things I love about karaoke is that you can't just dip your toe into it," he said. "You have to put yourself out there."
That's what we were afraid of. And because we were near the bottom of the list, we had lots of time to dwell on Mr. Sheffield's words as others went up to perform before the crowded room.
Observer editor in chief Ken Kurson was at the party, presented by Very Short List and It Books. Second up after Mr. Sheffield, the former punk rock bassist certainly put himself out there with an impassioned take on David Bowie's "Ziggy Stardust," which happens to be one of Mr. Sheffield's favorite tunes. (It's No. 117718 in the songbook at Sing Sing, on Avenue A, where Mr. Sheffield often goes with his wife on Saturday nights, according to his latest book.)
Turn Around Bright Eyes is Mr. Sheffield's follow-up to the memoir Love Is a Mixtape, about coping with the death of his first wife. He has since found new love, and karaoke serves as a binding agent in their relationship. ("Total Eclipse of the Heart," a line from which gives Mr. Sheffield's book its title, was the first duet they ever sang together.)
"It's like the national anthem of the karaoke nation," said Mr. Sheffield, who is a contributing editor at Rolling Stone. "It's like the opening prayer, the opening hymn."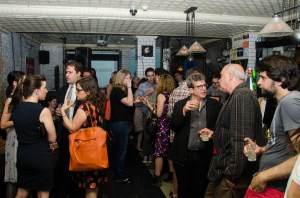 For Mr. Sheffield, who describes himself as "a fan who loves music but could never hack it as a musician," it seems that karaoke is the perfect vessel for his passion, as it is for so many aspiring singers.
Karaoke, Mr. Sheffield writes, "is something anybody can do. Your only limits are emotional. Indeed, it forces you to keep upping your emotional ante, as you voice your innermost feelings aloud."
After a few drinks—and a few mental pep talks—we were ready to do just that. Perhaps we too could love karaoke as much as Mr. Sheffield! At least for one night. Two more songs and we'd be up. This was it. "Fly Me to the Moon," here we come.
Or not.
Suddenly, the night was over. After a straight three hours of amateur performances, the DJ announced there would be no more songs. Karaoke was kaput.
What a relief.