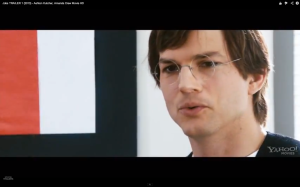 Today the world got its first glimpse of Jobs, the soon-to-be-released biopic of Apple's legendary late cofounder. Directed by Joshua Michael Stern, the film stars Ashton Kutcher in the title role and Josh Gad (of Book of Mormon fame) as the lovable Woz. Viewers will watch Mr. Job's journey from brainy college dropout working in his parents' garage to world-renowned head of a multi-billion-dollar tech company.
Ever since Mr. Kutcher claimed he was actually just playing dumb this whole time, we've been impressed by his acting capabilities–acting that dumb for that long takes some serious commitment. And according to CNET's review of the film—published after Jobs's premiere at Sundance—there's some hope for Mr. Kutcher's Jobs performance:
"Kutcher drew skepticism when he was announced as the film's lead, despite an uncanny resemblance to the man he would be playing, but he throws himself into the role, inhabiting Jobs in his mannerisms and gestures while doing a more than creditable impression of the man's voice. Kutcher also captures Jobs' deliberate, slightly hunched-over walk. At moments, as during an enjoyable sequence in which Jobs recruits members for the Macintosh team, Kutcher disappears into the role."
Judging by the trailer, it also looks like Kutcher-as-Jobs has a lot of entertaining, diva-licious screaming fits. Some involve slamming phones, others involve cars. We look forward to them all.
[youtube http://www.youtube.com/watch?v=yMSsf9szC2o&w=560&h=315]