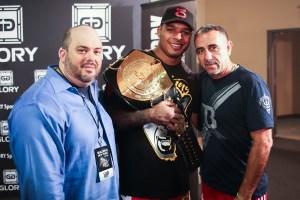 The hand-painted ceilings and exquisite interior of the Hammerstein Ballroom were transformed into a veritable Roman Coliseum last Saturday, as Glory, one of the world's pre-eminent kickboxing circuits, came to New York City.
There were no lions, whips or chariots, but there was plenty of hand-to-hand combat. In addition to five "superfights," a series of between-round bouts, the event featured an eight-man light-heavyweight kickboxing tournament, with the winner taking home a $200,000 prize.
Kickboxing is considered a close relative of mixed martial arts (MMA) and the hugely popular UFC. "Kickboxing made MMA the sport it is today," said a Glory spokesperson, unironically. Then again, he might not want to identify the two sports too closely, as MMA is currently illegal in the state of New York.
Seventeen countries across five continents were represented this past weekend, and each fighter tried to reflect a little of his homeland's flair. Steve McKinnon, an Australian, came into the ring wearing leis and aboriginal headwear. Sadly, his attire was the only similarity he bore to a proud Maori warrior, as he lost in the first round to Belgian Filip Verlinden.
The star of the evening was Suriname-born tournament champion Tyrone "King of the Ring" Spong. While he looked strong for much of the night, his victory was no cakewalk. After being knocked down in the first 15 seconds of his first-round bout, it took a monster right punch to take out Dutchman Michael Duut.
"I was still sleeping a little bit in the first round," Mr. Spong told the Transom. "He gave me a wake-up call."
And he certainly woke up after that, winning a unanimous decision in the semifinals—a victory that set up the finals match everyone had been waiting for: Congolese fighter Danyo Ilunga, the No. 1 ranked light-heavyweight in the world, against the "King of the Ring."
For the championship fight, many in the 2,500-person capacity crowd, which included suit-and-tie businessmen and ripped-shirt rednecks, were on their feet with anticipation. With all that hype, it wasn't hard for the fight to disappoint—and it did.
Just 16 seconds in, the referee came into a scrum in the center of the ring to stop the fight. He pronounced Mr. Spong a winner by TKO.
The crowd was incensed; Mr. Ilunga was furious. He jumped around the ring on one foot to show his mental clarity and to demonstrate his physical awareness.
"I'm fine! I'm good!" Mr. Ilunga was clearly heard saying as his coaches argued with the referee.
In a statement released after the event, Glory defended the referee's decision, explaining, "anytime a fighter fails to intelligently defend himself, the referee must effectively end the fight."
No surprise that Mr. Spong agreed with the referee, but he understood the crowd's frustration. He said, "Most of these people are fight fans; they want to see blood."
[protected-iframe id="fce121de08b3d7ec0454081dfa19a521-35584880-41847290″ info="https://vine.co/v/hu37YVe10b5/embed/simple" width="600″ height="600″ frameborder="0″]