Think twice before you sext that dude you're in love with on OkCupid; he might, you know, not actually exist.
That's the premise, at least, for MTV's hit documentary series Catfish, which swims into its second season tomorrow night at 10 p.m. Based on the 2010 film Catfish—wherein one of the Catfish cohosts learns his 20-something online girlfriend is actually a crazed middle-aged mother living in a remote, dilapidated house—the show follows filmmakers Nev Schulman and Max Joseph as they attempt to physically unite people with their online romantic partners. The reunions are sometimes happy. More often, they are weird. They are always entertaining.
The first season of Catfish premiered in November, 2012 to the delight of voyeuristic reality-lovers everywhere (is there anything more enthralling than watching a man realize his online girlfriend is actually a lesbian using him for phone bill money?). Needless to say, season two looks just as promising, judging by a trailer released by MTV. Let's meet some of our new catfish'd comrades, shall we?
Here's Lauren. She says she met the "love of [her] life" online eight years ago, and has never met him face-to-face. In a later scene, we see Mr. Schulman and Mr. Joseph driving Lauren up to her so-called-boyfriend's house. That'll go well, we expect.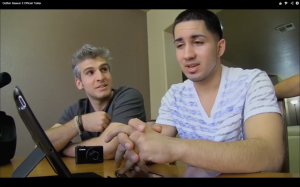 Here's this guy. He's making the face you make when you realize you've been sending thousands of dollars to an online girlfriend who doesn't actually exist (note Mr. Joseph LOL-ing in the background as he realizes this guy's misfortune is making for some quality television).
The trailer ends with a tantalizing teaser from Mr. Schulman: "This could be the biggest surprise ever," he says. What's the surprise? Has he actually fallen in love with the woman who once pretended to be his 20-year-old girlfriend? Is he secretly in love with Mr. Joseph? Is Nev Schulman actually the 50-year-old man I've been flirting with on Tinder for the past four months? Only tomorrow night's premiere will tell.
[youtube http://www.youtube.com/watch?v=_i7weNEKwyM&w=560&h=315]