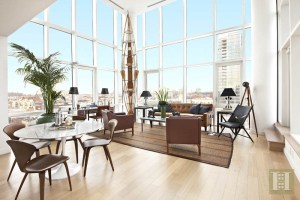 With a forest of high-rises about to sprout on the Greenpoint waterfront and Two Trees looking to build Brooklyn's tallest tower at the old Domino Sugar Factory site, the Edge and Northside Piers are about to have a lot of competition for waterfront views in northern Brooklyn.
But for now, they're all we've got, and they've got the price tags to show for it: one of the penthouses at the North Tower at the Edge just closed late last week for $3 million, making it the first penthouse resale in the building.
The penthouse at 34 North 7th Street sat on the market waiting for a suitor for a few years after the Edge opened in 2009, until William Martyn Peter Jenkins finally picked it up in 2011 for $2.16 million. He used the unit as a pied-à-terre, with his son staying in it when he wasn't in town—he's a management consultant who works in the Middle East, hence his Dubai address—but "he wasn't going to be around as much as he thought we was," broker Porter Hovey told The Observer, "so he realized the market was so hot, and it was an amazing time to sell."
Amazing and hot it was, even if it didn't hit the $3.25 million Mr. Jenkins was asking: the $3 million even he got for the condo from buyers Kristopher Drankiewicz and Macias Liliana, or $1,433 per square foot, represents an annual return of nearly 20 percent.
And it wasn't the first time that Ari Harkov and Warner Lewis at Halstead Property, who shared the listing with Ms. Hovey, were involved in a sale for the penthouse. Mr. Harkov and Mr. Lewis had represented Mr. Jenkins when he bought the apartment in 2011, and Ms. Hovey and her sister Hollister ("I was basically Pinteresting before Pinterest," the "heirloomist" told Flavorwire) decorated the unit for the seller.
"He was our first decorating client," Ms. Hovey told The Observer, "so it kind of started a new thing for us." They parlayed the makeover into a flurry of press, including a book titled Heirloom Modern and pieces in every major newspaper in the city (and some minor ones).
"It's Palm Beach on crack," Hollister Horvey told the Journal of her sister's decorating style (which could apply equally well to the market for condos in northern Brooklyn), though the style for Mr. Jenkins's unit—with its double-height ceiling, 600 square feet of outdoor space and modern touches—was decidedly more sober.