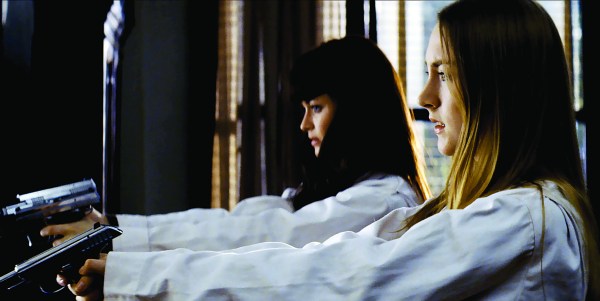 Two years ago, when a pretentious, lunkheaded little thriller without thrills called Violet & Daisy premiered at the 2011 Toronto International Film Festival, the wags were dragging out the old Jean-Luc Godard quote that all you need to make a movie is a girl and gun. This movie has two girls—and an arsenal of weapons that add nothing to a poorly directed, moribund script except a lot of noise.
You could write the plot on the head of a pin. Violet (Alexis Bledel) and Daisy (the excellent Saoirse Ronan with the unpronounceable name, from Atonement and The Lovely Bones) are teenage assassins who carry out their blood-splattered assignments with the same grim, grotesque deadpan reserved for washing a load of soiled panties at the Laundromat. In the first scene, they dress like nuns and kill off a battalion of thugs by firing a round of .38 caliber bullets through pizza boxes. None of this is explained. We don't know whom they are working for or why. But after they spend their take on a shopping spree, they need a new job. This one promises to be tidy, until they take a shine to their next victim—a pathetic sad sack who is dying of pancreatic cancer, played by James Gandolfini. This is a new kind of target who covers them with a blanket when he catches them taking a nap and offers them oatmeal cookies. They break all the rules by engaging him in conversation, with dialogue like this: "Is this an interview or a hit?"  "I don't know. You got any milk?"
It gets dopier. And uglier. After one massacre, they jump up and down on the corpses to a rock 'n' roll beat while the blood spurts out of the victims' mouths. After piling four bodies into Mr. Gandolfini's bathtub, Violet insists they finish off Mr. Gandolfini too. (He has no name in the film.) Then Daisy has a humanity attack and they help the victim write a goodbye letter to his estranged daughter. I mean, this guy makes great cookies, and he's going to die anyway. Like girls who have spent entirely too much time watching Law & Order marathons, they drone on about forensics, ballistics and the risk of looking unprofessional. When everything else fails, they resort to dream sequences in which they kill off half of Brooklyn to a soundtrack stuffed with everything from Ravel's "Pavane pour une infante défunte" to Nat King Cole singing "Answer Me, My Love."
This disoriented drivel was written by—and marks the directing debut of—Geoffrey Fletcher, who won an Academy Award for writing Precious. It's weird, but not in a good way. It's violent, but not in any way you could call exhilarating. Mostly it's just living proof that the movie business today is run by an inexhaustible supply of dilettantes. Win an Oscar and all of the rotten, rejected scripts you've been hiding in your desk suddenly get produced whether anybody ever sees them or not—and they even let you direct, no previous experience necessary. The result, in the case of Violet & Daisy, is artsy-fartsy gibberish executed with a staggering incoherence that smacks of desperation. In one dream sequence, Daisy meets up with a secret agent sucking a lollipop (the distinguished Marianne Jean-Baptiste) who is late for her ballet class. "Do you know what I wanted to be when I was your age?" "No." "I don't either." That's the kind of pointless bilge this movie spouts without blinking.
I saw this artificial dirge with a group of friends who indulged me by trying to watch it with me. Thirty minutes on, one of them said, "Does anybody have any idea what this thing is about?" The rest of us gave up without a struggle.
 rreed@observer.com
VIOLET & DAISY
Written by Geoffrey Fletcher
Directed by Geoffrey Fletcher
Starring Saoirse Ronan, Alexis Bledel and Tatiana Maslany
Running time: 88 mins.
Rating: 1/4 stars