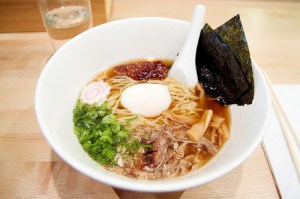 It's getting hot in these kitchens!
British chef Kyle Connaughton is suing Chipotle and its CEO Steve Ells for allegedly involving him in a scheme to steal Momofuku chef David Chang's noodle-bar concept.

In court documents obtained by The Observer, Mr. Connaughton claims that he was drafted to design a ramen-house equivalent for the Chipotle brand, even traveling to Japan to sample various types of noodles. He was not informed that Mr. Ells had previously collaborated with Mr. Chang on a similar concept and that the burrito brand was using the work without Mr. Chang's consent.
A marketing officer at Chipotle allegedly told Mr. Connaughton that "Momofuku will sue Chipotle when the ramen concept opens but that Mr. Ells made a decision to proceed anyway." When Mr. Connaughton confronted Mr. Ells about the shady situation, he was fired.
Mr. Chang had apparently teamed up with Chipotle in 2008 to launch a "ramen concept." According to legal documents, "the ramen concept plan was identical in its basic business purpose and design as the one Mr. Ells contracted with Mr. Connaughton to design."
ShopHouse, a Southeast-Asian-inspired eatery, was launched in 2011 without Mr. Chang's consent and without compensating him. According to the court documents, Mr. Ells even used the design work completed by Mr. Chang in its Washington, D.C. store.
Chipotle declined to comment on the suit.
In 2012, Mr. Chang hinted to Adweek,  "There is a very successful fast-food company that approached us and quite frankly took our intellectual property. And they are running our concept right now. They have two stores that have opened up."
At the time, Eater speculated that Mr. Chang was referring to the ShopHouse Southeast Asian Kitchen chain, which serves "distinctly spiced homemade curries and sauces, fresh vegetables and herbs, artisanal tofu, and meats raised responsibly without the use of antibiotics or added hormones."
It is unclear whether the new ramen-bar concept would have been added to current ShopHouse locations, or would have been launched independently of existing stores.
Mr. Connaughton is suing Chipotle for unspecified compensation for sullying his reputation. Meanwhile, Mr. Chang is staying out of the fight.
"Momofuku is not a party to the law suit and has no comment," a spokesperson for Momofuku told The Observer. "We hope the parties work out their differences."