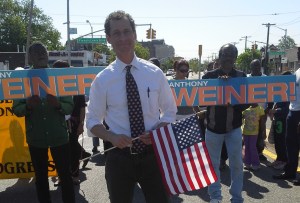 Most of Anthony Weiner's former staffers are working for his rivals in this year's mayoral race–or are settled in jobs outside of campaign politics–but at least one appears to have just returned to the fold.
Amit Bagga, who worked as Mr. Weiner's executive director at the height of his infamous Twitter scandal two years ago, is going back to work for the former congressman once again. Indeed, Mr. Bagga has already disclosed this information on his LinkedIn profile, where his new title is listed as "Senior Advisor, Policy and Communications at Weiner for Mayor."
The significance of the hire isn't necessarily huge, but Mr. Bagga will likely help bring some institutional knowledge into a Weiner operation mostly filled with fresh faces. At one point before he formally announced his campaign, Mr. Weiner's inability to attract brand-name staffers was viewed as a possible sign of weakness.
In April, when Capital New York surveyed Mr. Weiner's one-time employees to inquire if they had any interest in working for the former congressman, Mr. Bagga told the publication he had "absolutely no comment."
Mr. Bagga and Mr. Weiner's campaign spokeswoman did not immediately return requests for comment for this story either.