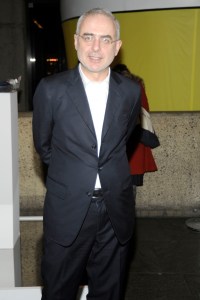 Over at Artsy Editorial, there's a really great interview with the Italian-born, New York-based curator Francesco Bonami, who curated the 2003 Venice Biennale, the 2010 Whitney Biennial (with Gary Carrion-Murayari) and the just opened "Maurizio Cattelan: Kaputt" at the Fondation Beyeler, in Basel, Switzerland, where Artsy's Marina Cashdan caught up with him. It seems like he was in a pretty frank mood!
Near the end of their talk, they get on the subject of Ai Weiwei, who has a collateral show in Venice this year with dioramas of his 2011 detention by Chinese authorities. Mr. Bonami has some strong feelings about the work. Here's an excerpt:
Were there any pavilions or collateral events [in Venice] that you were surprised by, in a good or not good way?

FB: I hate Ai Weiwei. I think he should be put in jail for his art, and not for his dissidence … lukewarm dissidence, because a real dissident, you don't hear about them any longer, you know? They just throw away the keys.

MC: And you don't think he's helping "real" dissidents?

FB: I don't think he's helped the real dissidents, and I think he exploits his dissidence in favor of promoting his art.
Which, sure; Mr. Ai's art is often not so compelling, but he's done some pretty important work in recent years, researching and bringing attention to the victims of the 2008 Sichuan earthquake, and Chinese human rights abuses in general, and his ongoing skirmishes with Chinese authorities have been pretty compelling, if not immediately politically efficacious.
He also talks a bit about horses, offers a critique of Massimiliano Gioni's current biennale, notes that his frequent collaborator Maurizio Cattelan never gave him his best work and explains his theory of "the Duane Hanson syndrome." And there's a lot more, all of it pretty interesting. Have a read.