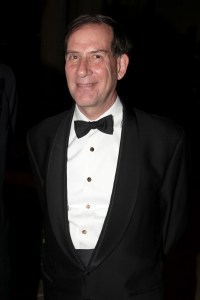 The Frick announced that its director, Ian Wardropper, received the Medal of Chevalier from the French Order of Arts & Letters at a ceremony at the museum yesterday. The ceremony was conducted by Antonin Baudry, the French Embassy's Cultural Counselor. Dr. Wardropper joins people like Agnes Gund, Jim Jarmusch, Richard Meier and Ornette Coleman in the order, which was founded in 1957 to recognize those "who have contributed significantly to furthering the arts in France and throughout the world."
Here's a bit from the museum's press release about the news:
"A specialist in European sculpture, decorative arts, and twentieth-century design and decorative arts, Ian Wardropper held key positions first at the Art Institute of Chicago and then at The Metropolitan Museum of Art before being named Director of The Frick Collection in 2011. At The Frick Collection, Wardropper co-curated last year's "Gold, Jasper, and Carnelian: Johann Cristian Neuber at the Saxon Court," the first exhibition on the work of a remarkable eighteenth-century court goldsmith."
In other news about French orders, art collector and patron Nathalie de Gunzburg received the chevalier medal from the same order back in March.