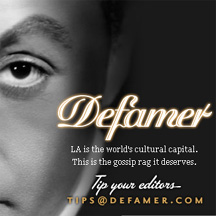 Gawker Media is relaunching Defamer, the Hollywood gossip site that was folded into Gawker proper back in early 2009. The website will temporarily be run by former Gawker editor in chief AJ Daulerio, he announced in a post this afternoon. Mr. Daulerio, who left Gawker in January, has been consulting for BuzzMedia since March and will conduct a search for a permanent editor.
The new version of Defamer will operate in the same vein as Valleywag, Gawker Media's  Silicon Alley blog that shut down in 2008 and relaunched in April when Gawker Media switched to Kinja.
"It's akin to Valleywag," Gawker editor John Cook said, explaining that both sites have "a smaller constituency and more narrow focus" than Gawker proper, and will pull in posts from the mothership (or rather, mother blog).
"There's room to do more Hollywood stuff and pull larger stuff from Gawker," Mr. Cook said.