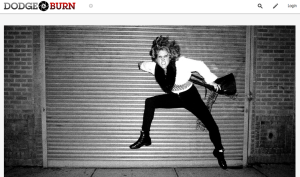 There's a new Gawker Media property in town. The image-based site, Dodge&Burn, is designed to chronicle and capture "the mundane and the magical, the sad and the uplifting." Dodge&Burn is the work of Victor Jeffreys II, a contributing photo editor for Gawker.
"The idea here is to use jpeg as opposed to written content as the basis for conversation," Mr. Jeffreys told The Observer.
The name Dodge&Burn is a photography term that applies technique used during the printing process to manipulate the exposure of areas on a print, changing it from the rest of the image's exposure.
Like all of Gawker Media, Dodge&Burn uses Kinja, which, Mr. Jeffreys said, is ideal for photo sharing and allows people to comment, annotate and "blur the line between writer and commenter." The photos are mainly going to focus on New York, from covering events and parties to capturing a car accident on the street during the walk to work.
"Remember: less photoshopping is more, stealing souls can be done respectfully, and of course, if you have a picture of it, it must have happened," the blog says. "So, fire of up your cameras (or smart phones), climb a tree, hide in a closet, or sneak back stage and start snapping."