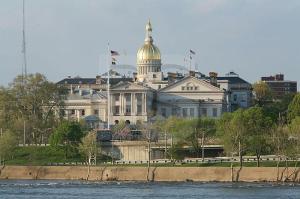 TRENTON – The U.S. Supreme Court's ruling today that struck down a provision of federal law that denied marriage benefits to gay couples could be a "game changer" in New Jersey, according to Garden State gay rights advocates.
The groundbreaking decision, while only applying to states that recognize same-sex marriages, is setting the stage for a legal battle in New Jersey some advocates predict will have rippling effects here sooner rather than later.
"We're talking certainly weeks, not months," said Sen. Ray Lesniak, (D-20), a long-time proponent in the state for same-sex marriage.
The lawmaker predicts a motion will be filed with the New Jersey Supreme Court in the near future that will challenge the state's civil union law, which, gay advocates say, is now clearly a separate and unequal alternative to marriage for New Jersey residents.
Here's what Lesniak and LGBT advocates say is the outcome of the nation's high court's ruling on the Garden State:
New Jersey's civil union system is a result of a 2006 New Jersey Supreme Court decision that held same-sex couples in the Garden State should be entitled to the same rights as couples of the opposite sex. The ruling in the case – Lewis v. Harris – gave lawmakers a period of time to amend New Jersey marriage laws or pass a civil union law.
Fast forward to today, the Supreme Court ruled the federal government cannot discriminate in its recognition of marriage benefits for same-sex couples. Now, gay advocates argue, the state's civil union system is inherently unequal because the thousands of couples with civil unions in the state do not qualify for federal benefits.
It's the New Jersey Supreme Court's 2006 decision that Garden State gay couples are entitled to the equal protection that straight couples have that gives local gay rights advocates cause for declaring the Supreme Court's ruling a "game changer," said Udi Ofer, executive director of the American Civil Liberties Union of New Jersey.
"New Jersey's civil union system will truly become a separate but unequal system," Ofer said.
"New Jersey is now ground zero for the next big battle for marriage equality," he said. "Civil unions are not an equal alternative to marriage. … Today, that term will be the reason that 6,499 civil unions in New Jersey will be ineligible for federal benefits."
The ACLU-NJ has a Statehouse news conference slated for Thursday in which Ofer and others will announce their plans for ongoing litigation in the state.
However, the Supreme Court's ruling Wednesday has already prompted advocates such as Lesniak to predict gay marriage will soon be allowed in the Garden State.
"Federal benefits will now be available to same-sex marriages but not to domestic partnerships in New Jersey," he said. "This unequal treatment violates the state constitution."