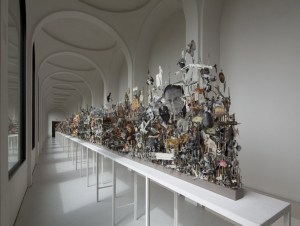 The 2013 Gershon Iskowitz Prize, which is "presented annually to one artist who has made an outstanding contribution to the visual arts in Canada," has been awarded to Geoffrey Farmer, who was born in British Columbia and now lives and works in Vancouver. Mr. Farmer will receive $50,000 in cash and a one-person exhibition at the Art Gallery of Ontario, which administers the prize with the Gershon Iskowitz Foundation, in February of next year.
"I'm deeply touched to receive this prize," the artist said in a press release. "Gershon Iskowitz"—a Canadian painter who lived from 1921 to 1988 and established the prize to assist other artists—"has set an example through his generosity of spirit—a legacy that asks artists to support and help each other. I'm truly honored."
Mr. Farmer shows with Casey Kaplan in New York, and had easily one of the most impressive works at Documenta 13, in Kassel, Germany, last year. Titled Leaves of Grass (2012), it was made up of more than 10,000 images cut out from Life magazine, dating from 1935 through 1985 and affixed to individual pieces of dried grass, which were installed in chronological order along a 124-foot table at the city's Neue Galerie. Wild, beautiful stuff. The man deserves a few more awards.