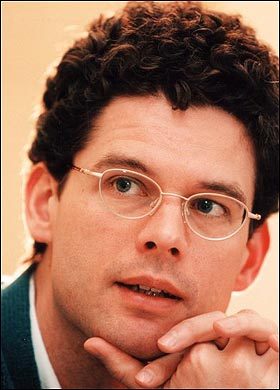 An NYU spokesman has just exclusively informed The Observer that Geoffrey Miller will keep his post at the university.
As reported earlier today, Dr. Miller, a visiting evolutionary psychology professor at NYU, is under fire for divulging his distasteful feelings on the PhD application process.
His since-deleted tweet read: "Dear obese PhD applicants: If you don't have the willpower to stop eating carbs, you won't have the willpower to do a dissertation. #truth."
"Professors have said things before that are controversial," Philip Lentz of the school's Public Affairs office told The Observer. "I don't want to characterize this as 'big' or not."
The university released a formal statement on the matter that showed little sympathy.
"What Geoffrey Miller, a University of New Mexico professor who is a visiting professor at NYU, saidon Sunday on his personal Twitter account was regrettable.  Professor Miller apologized for the Tweet and deleted it. NYU considers the matter closed."
The University of New Mexico, however, feels differently. In a statement issued last night, the school noted that the matter was far from closed.
"We are deeply con­cerned about the impact of the state­ment, which in no way reflects the poli­cies or admis­sion standards of UNM. We are inves­ti­gat­ing every aspect of this inci­dent and will take appro­pri­ate action," the statement read.
UNM Psy­chol­ogy Chair Jane Ellen Smith said she was "surprised" by the incident adding that Dr. Miller has attempted to justify his comments as "part of a research project." (It seems said research project will be restricted to just 3,789 people, as Dr. Miller has now locked his Twitter account from public viewing.)
Before the account was locked, his comments quickly drew the ire of the Twitter world, with NYU colleague Jay Rosen referencing the "fat-shaming tweet" as "mind boggling."
Wired writer Steve Silberman compared the sentiments to eugenics: "More from @matingmind's passion for eugenics. It sounded better in the original German."
Dr. Miller quickly backtracked, subsequently tweeting that "Obviously my previous tweet does not represent the selection policies of any university, or my own selection criteria…sincere apologies to all for that idiotic, impulsive, and badly judged tweet."
His new followers, however, were far from assuaged, including Jeanette DePatie, the self-described "fat welebrity" blogger for "The Fat Chick Sings."
Her response? "#FindAGoodLawyer."
[youtube http://www.youtube.com/watch?v=fmX_xlJ59Ks]