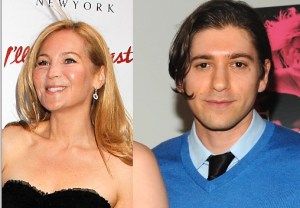 Even though the third season of HBO's polarizing portrayal of 20-something shaudenfreude won't air until next January, don't despair. GIRLS (which, fun fact, was actually shortened from the original title No, Don't You Get it, She's Making a Commentary ABOUT the Awfulness of this Generation's GIRLS) has already started leaking some of their casting choices, and they look fabulous. We might already have a replacement Charlie, and Jennifer Westfeldt of Kissing Jessica Stein and Friends With Kids fame* will be making a cameo. Let the guessing games begin!

Ever since the news of Christopher Abbott's departure from the show hit the web, we know that everyone has been losing a lot of sleep over who will replace the tepidly likable but mostly forgettable boyfriend of Allison Williams's character. Will it be another twerp like Jorma Taccone? Or will she fall for someone who reminds her of the man she was last seen declaring her love for? And will that slice of Wonderbread with the wilting lettuce and half of a sad tomato slice that no one put away after lunch ever return her affection?
Deadline may have figured it out when they announced yesterday that Michael Zegen, who plays Bugsy Siegel on Boardwalk Empire, has joined the cast for filming. Although it's not known yet if he'll be William's love interest, it's a good bet. Just look at his locks! And don't forget, he spent his entire tenure on The Walking Dead tied up and blindfolded with a bum leg, only to end up with a SPOILER ALERT in his head. If there's a better way to "get into character" for being Marnie's main squeeze, we'd like to hear it.
In related news, Jon Hamm's girlfriend will be in a funeral scene with Adam Driver, probably as a ghost.
*Just kidding, she dates Jon Hamm, that's how you know her.