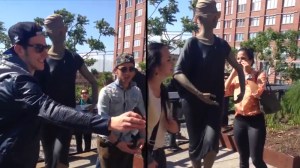 Amazing what a fishbowl can do!
When good-natured prankster Jeff Greenspan noticed that a statue of a woman on the High Line seemed incredibly lifelike, he decided to test the boundaries of her believability. By placing a fishbowl filled with a few dollars in front of the statue, he was able to convince crowds–at least momentarily–that they were witnessing one incredibly still street performer.
"It has sunglasses on it, it has a dress, it's sort of bronze-ish–it could be one of those performers who paints themselves," he told The Observer.
Mr. Greenspan, the mind behind other urban art projects like Hipster Traps and Selfless Portraits, inadvertently caused a major traffic jam as people milled around, trying to figure out whether the statue was real–and filmed the results.
"It started blocking foot traffic on the High Line to the point where security was coming," he said. "I heard on the Walkie Talkies, 'Somebody put a bowl of money on the statue, please respond.'"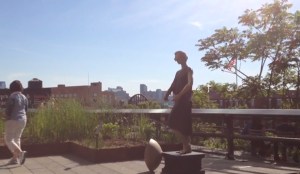 Mr. Greenspan said that people who ended up giving the statue money were good-natured about the joke. Eventually he reclaimed the fishbowl and gave the money out to a real street performer a few feet away.
"He's seen the video online and reached out to me. I'm now Facebook friends with a mime-slash-clown," he said.
Cute! And a small testament to human nature: "An interesting part of the experiment was that once people knew it was a statue, nobody took the money."
[youtube http://www.youtube.com/watch?v=Z7Vu61BBccg]