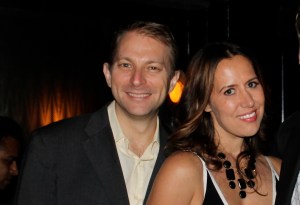 Writer and former Daily News gossip columnist Jo Piazza was in her gynecologist's office in March, seated in an uncompromising position, when she decided to return to the world of covering celebrities in their most compromising positions.
Ms. Piazza, who by then was a senior editor and political reporter at the website for Al Gore's Current TV, wondered aloud to her gynecologist if ditching the world of politics for an offer as executive news director for In Touch Weekly and Life & Style was a prudent decision.
"She was like, 'Hell yes! I read those magazines every night in the bathtub with a glass of wine and it makes me so happy,'" Ms. Piazza, 32, remembered her doctor saying.
When Current TV was sold to Doha-based Al Jazeera in January for $500 million, Ms. Piazza found herself—along with other staffers—having to reinterview for her job. "I was very disappointed with how Al Jazeera was handling the takeover," explained Ms. Piazza, adding that an interview with a "misogynistic" Al Jazeera representative was yet another red flag.
In April, Ms. Piazza returned to the glossies, just in time for the Amanda Bynes bong-throwing scandal, and her team at In Touch Weekly has been routinely beating out the slack-jawed videographers from TMZ, notching the first juicy details of the former teen star's drug-fueled fall from grace.
"I think magazines do a really good job of entertaining people, but also of taking celebrities down a notch, and I think celebrities deserve that in this day and age," Ms. Piazza told the Transom.
Still, her entry into the world of New York City gossip was accidental. Having graduated from Columbia's School of Journalism, she snagged an internship with George Rush and Joanna Molloy at the Daily News. As one of her first assignments, she interviewed a familiar-looking man at a party for Sean "Puffy" Combs. Upon returning to the office, she was informed by her bosses that she had just spoken with Jay-Z. Mr. Rush nearly fired her on the spot.
Ms. Piazza left the paper to write Celebrity Inc., a detailed look at the lucrative world of celebrity, and now she has released her first novel, Love Rehab, a comedic take on the world of New York City women and their many romantic foibles.
"I like creating these products that people enjoy and that make people happy," she said. "I know Love Rehab isn't Hemingway, but I think that it will make you laugh out loud."
Last Tuesday, she held the book's launch party at the Jazz Room at The General, a dimly lit space located in a basement on the Bowery.
Daily News alum and Observer newcomer Ben Widdicombe served as the night's emcee. And despite Ms. Piazza's pledge that no celebrities would be at the party, Amber Ettinger, the easy-on-the-eyes model/Internet celebrity who rose to fame as Obama Girl, was in attendance.
There was a date auction featuring such studs as Vijay Pandurangan, a successful software engineer, and Paul Italia and Seth Levine, the owner and the chef of The Stand NYC, respectively.
"We only used actual real available bachelors, because the point of my book party and the book launch is that I genuinely want people to get laid," Ms. Piazza told the Transom. "There's really no higher service you could aspire to for the women of New York City."