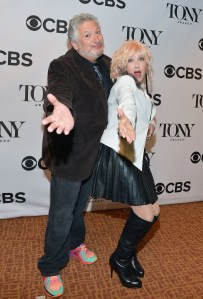 From Torch Song Trilogy to La Cage aux Folles, Broadway legend Harvey Fierstein has earned a legacy on the Great White Way. And now, his Kinky Boots has taken the theater world by storm, garnering a stunning 13 Tony nominations (the most of any show this year), including a nod for Best Book. Here, as guest editor of Eight-Day Week, Mr. Fierstein shares how he'll spend his special week.
WEDNESDAY, June 5
Barbara Walters interviewed me 30 years ago for 20/20. It was, she claimed, her first ever on-air interview with an openly gay person. (Can you believe that?) On the eve of her retirement, the broadcasting legend and I will sit down on The View and reminisce about how life has changed over three decades. I'm bringing along the cast of my show Kinky Boots to perform!
Then it's lunch at The Palm West, where they recently installed a mural of Cyndi Lauper, Jerry Mitchell and me celebrating Kinky Boots. Since it's matinee day, I'm going to splurge on the lobster.
And then I've got to run myself over to Sardi's, where my Kinky Boots collaborator, Cyndi, is having her caricature revealed. No matter what, she's going to look older in her portrait than I do in mine, since I was immortalized back in 1983.
The View, 11am on ABC; The Palm West, 250 West 50th Street, (212) 333-7256; Sardi's Restaurant, 234 West 44th Street, (212) 221-8440.
THURSDAY, June 6
It's my birthday, and I've got some fun planned.
I'll start off being interviewed by MSNBC's gorgeous hunk Thomas Roberts about the recent op-ed I wrote for the Huffington Post regarding the Boy Scouts' new gay policies. Then I'll slip away for a very private lunch with friends at Angus McIndoe. I'll follow that up with a reading of my new play, due to be produced next season. (It's all very hush-hush, so don't tell nobody.) After that, it's home for a little more private celebrating. Hey, you only turn 45 twenty or thirty times.
Angus McIndoe Restaurant, 258 West 44th Street, (212) 221-9222.
FRIDAY, June 7
Opening night of the 2013 Governors Ball Music Festival, under the stars on Randall's Island, features concerts by alt-rock heroes Dinosaur Jr., Feist, headlining arena-rockers Kings of Leon and Canadian electro-punks Crystal Castles, and it's my chance to find out what's inside Erykah Badu's turban. The festival also features lawn games (like a giant Connect Four board), art installations, warm-up yoga classes, Ping-Pong tournaments, and face and body painting. Oh, yes, body painting. I hope someone brings a roller!
The Governors Ball Music Festival, Randall's Island Park, 12pm-11pm, tickets $95-$180.
SATURDAY, June 8
Early in the morning, I'll slip into something very comfortable and drive up to one of my favorite antique shows of the season, in Harwinton, Conn. Ninety minutes from the city, part indoors and part outdoors, this show always has a great variety of Americana, country and folk art.
Then it's back home to pick up my tuxedo and head off to Saturday night in Manhattan where, on the eve of the Tony Awards, I will pop in to watch pal Nathan Lane's Tony-nominated performance in The Nance. I'll be treating myself to a night over in the Big Apple, staying at my favorite boutique hotel, The Michelangelo, so I can be fresh in the morning.
Harwinton Antiques & Design Weekend, 70 Locust Road, Harwinton, Conn., (317) 598-0012, 9am-5pm; The Michelangelo, 152 West 51st Street, (212) 765-1900, rooms from $349.
SUNDAY, June 9
First thing in the morning, it's a mad dash over to Radio City Music Hall to rehearse for that night's live telecast of the Tony Awards. I am always so excited to watch the shows rehearse their big numbers, check out where all of the celebrities will be sitting that night, and make a trip to the "Presenter Gift Lounge," where they give you a bunch of swag for appearing on the show. No kidding: I once got a
TempurPedic bed!
But for those looking to see a matinee, you are in luck—if your name is Tony. The hit musical Spider-Man is giving out a free ticket to Sunday's matinee to anyone named Tony. It's their second year doing it. So, Antoinette, get your butt over there.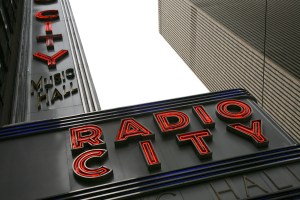 I don't want to sound like a poop, but I'll most likely nap before dressing and heading off to walk the Tony red carpet and getting to my seat in time for the big show to begin. Keep your fingers crossed for Kinky Boots!
Win or lose, it's party time at the Governors Ball, followed by the O&M exclusive after-party at The Carlyle Hotel. Last year I was photographed in bed with at least a dozen celebs. I won't tell who until it's time for the autobiography!
The Tony Awards, 9pm on CBS; Radio City Music Hall, 1260 Avenue of the Americas, (212) 247-4777; The Carlyle Hotel, 35 East 76th Street, (212) 744-1600, by invitation only.
MONDAY, June 10
No rest for the weary. I've got a political evening coming up:
First I am appearing at Gracie Mansion along with Mayor Michael Bloomberg to help present my darling friend Audra McDonald with the "Made in NY" prize.
Out the door and across town I will fly to make an appearance for another friend, Christine Quinn, who is running for mayor.
Gracie Mansion, 88 East End Avenue, (212) 570-4751, by invitation only.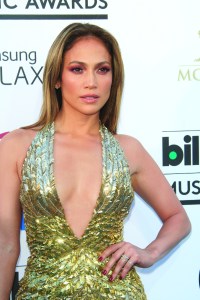 TUESDAY, June 11
This boy is taking a day of rest, even though there's a fashion show!
SNOW Magazine's NYC Fashion Show will get you ready for winter and skiing season at Hudson Studios with a presentation by fashion brands Rossignol, Bo
gner, SOS, UGG Australia and Snow Sugar, among others. So, you go to that and tell me all about it. I'll be napping by my pool!
Hudson Studios, 601 West 26th Street #1330, (212) 924-2430, 11am-3pm, by invitation only.
WEDNESDAY, June 12
Held at The Plaza Hotel, this year's amFAR New York Inspiration Gala honors Valentino, Jennifer Lopez and Alan Cumming, with special guest Liza Minnelli and a performance by Carly Rae Jepsen. Expected guests include Michael Bastian, Nina Garcia and Carlos Souza. Tickets start at $1,200. How many would you like? Or shall I just save you an entire table?
The Plaza Hotel, 768 Fifth Avenue, (212) 759-3000, cocktails 6:30pm, dinner 9pm, tickets from $1,200.