David Berson is on quite the winning streak. Earlier this month, the former ESPN exec was promoted to president of CBS Sports, roughly two years after joining the network. And now he's closed on a classic six at 50 Riverside Drive with wife Kathryn (a.k.a. Katie) Lacey, ESPN's former SVP of marketing (the couple's illicit relationship prompted both their departures from ESPN).
What's remarkable about Mr. Berson is that several years ago, his life looked likely to derail. Workplace love affairs rarely end well and Ms. Lacey and Mr. Berson's was no exception—ESPN declined to renew both their contracts. But somehow Mr. Berson managed to land the girl, the job and the perfect apartment (river views, city views and the possibility of three bedrooms) on the Upper West Side. How did he do it?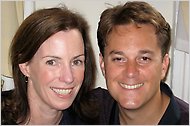 Well, if the couple's 2010 New York Times wedding announcement is any indication—chutzpah. Rather than skirting the fact that their relationship had been Deadspin fodder and that they were both out of work because of it, the announcement laid it all out there. The couple, it wrote, "left ESPN last December as their contracts were nearing completion and their relationship became publicized. She worked in New York as the senior vice president for marketing, and he worked at the company's headquarters in Bristol, Conn., as the executive vice president for program planning and strategy."
In the years since, things have clearly been going well for these lovebirds. So well that they were able to pick up this high-floor co-op for $3.195 million, according to city records—paying the full asking price. Perhaps Mr. Berson was already expecting his promotion when they signed the contract a few months back.
The listing, held by Douglas Elliman's Ann Cutbill Lenane and Deirdre DeRisi, spent less than a week on the market. Not surprising as the co-op had been been completely renovated by sellers Robin Fessel and Tamara Bigalow with through-wall air conditioning, a washer/dryer and new bathrooms. Other improvements and amenities, though nice, would appear to have less widespread appeal: an expanded entry foyer, two Miele dishwashers and two wall ovens (perfect for starting your own catering business?). Still, given the way that the real estate market has been going lately, we think that Mr. Berson and Ms. Lacey probably got lucky in yet another regard: they didn't pay over ask.