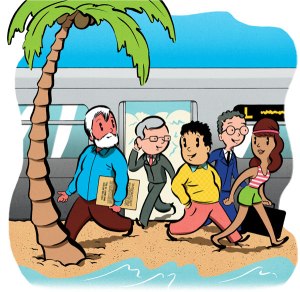 When my plane broke through the Los Angeles smog on an afternoon in early spring, I imagined I had willed the town into existence by nothing more than my arrival. It's the city's foundational myth—perpetually born yesterday. I was there to cover an art fair called Paris Photo, which was being held at that most mythic of L.A. landmarks—Paramount Studios—and to report on the city's art world. If New York had a say in the matter, it was something of an accident of history that there were ever artists in Los Angeles at all. The dealers and collectors were always in New York. And who could force the entertainment industry to care? For decades, the most noteworthy thing about successful Los Angeles artists—aside from a core group—was that they left for the East Coast.
The reality is more complicated. New York changed. Downtown ceased being a squatter's free-for-all and became an outdoor shopping center. The S&M clubs and taxi garages of Chelsea gave way to galleries stacked on top of one another. Increasingly, the creatively minded transplants who migrated each day to New York from all over the country came with expiration dates. Ten years would go by, if you were lucky, before the inevitable fatigue set in. So many migrants have gone to California as a solution to some problem that it's become an American trope. But in a town where the front page of the largest daily newspaper reports the unsubstantiated rumor that industry blogger Nikki Finke would be fired from Deadline Hollywood, the arts have quietly carved out a home. New York just got more and more expensive.
"Manhattan is over," Christopher Knight, longtime art critic for the Los Angeles Times, told me by phone a few weeks after my return to New York. "Kids can't move there the way they used to. If you're not gonna be in Manhattan, and you're going to cross the river, you might as well keep going to California, where at least the weather is nice."
There have always been artists in Los Angeles, but it was never a place for gallery empires. Douglas Chrismas's Ace Gallery seemed at one time to aspire to Castelli-like dominance—he was an early champion of Bruce Nauman and Richard Serra—but Mr. Chrismas never developed a stable artist roster, and his business has been plagued by financial difficulties, lawsuits and bankruptcy filings. The beloved Ferus Gallery, which was the first to show Warhol's soup cans and gave the world Llyn Foulkes, Robert Irwin and Ed Ruscha, among others, closed in 1966 after less than a decade due to lack of funds. New York galleries have failed when trying to shoehorn their way into the culture here. But that's all changed lately, with the city hosting several mini-empires—Gagosian in Beverly Hills, Regen Projects in Hollywood and, most recently, an outpost of New York dealer Matthew Marks in West Hollywood. For the most part, the dealers have spread out, though walking around Culver City, where a number of galleries have clustered, one sees a glimmer of Chelsea.
"I didn't name it," Tim Blum of Blum & Poe said when I visited the Culver City Arts District. "I'm not a fan of it. It's not something I'm fond of. We are Los Angeles nine double-O three four, as I like to say."
Blum & Poe did, however, basically establish the district when it opened in 2003. Mr. Blum was giddy about his gallery's present space, a 21,000-square-foot warehouse that opened in 2009. He's especially proud of the parking lot. You know someone means business when they have a parking lot, he said.
Mr. Blum described his city's art scene as "kind of like a 45-year-old in good shape." He's glad younger artists are looking to L.A. as an alternative to New York, but "we don't want to necessarily encourage it. Because we don't want the same thing to happen here. We go to New York just as regularly as everyone else, and very rarely do I walk away from a stroll through Chelsea thinking—about much of anything. Usually it's, 'ugh, gah.' It's so routine."
Significantly, three former New Yorkers are leading L.A.'s major museums: ex-dealer Jeffrey Deitch at MoCA, ex-Dia Foundation director Michael Govan at the L.A. County Museum of Art, and ex-Drawing Center director Annie Philbin at the Hammer. MoCA was near financial ruin before an institution-saving $30 million matching grant from trustee Eli Broad. Mr. Deitch's hiring was controversial and led to the abrupt departure last summer of chief curator Paul Schimmel, followed by all four of the museum's artist trustees quitting. The drama culminated last month with the news that Mr. Schimmel will become a partner in Hauser Wirth & Schimmel, the planned L.A. branch of Swiss gallery Hauser & Wirth, which also operates a space in London and last year  opened the largest commercial gallery in New York.
The fate of the L.A. art world would now seem to lie, at least in part, with its expanding gallery scene. There's a general anxiety that as this commercialism expands, Los Angeles could become the global clusterfuck that New York embodies and perpetuates, a town of galleries with the size and temperament of a Walmart franchise. Blum & Poe is already massive. The rumor floating around was that some of the Takashi Murakami pieces on view when I visited were priced at $5 million, and all of them sold.
Culver City is the latest locus of a continuously roving art district with no real center. "If you stay in one place for long enough, it will come back," the Downtown gallerist Thomas Solomon told me. Galleries have always had to be versatile here—opening up shop in whatever storefront was available, consolidating at one time into Santa Monica's Bergamot Station and sometimes doing business out of dealers' homes. Even for Mr. Schimmel, that the infrastructure of the city never allowed the galleries to become very powerful is a good thing.
"The city is the perfect balance of a really creative community and maybe even a little neglect from the usual sources of patronage," he told me by phone. "Sometimes when you have too much patronage, or patronage of a certain kind, maybe of a commercial kind, it has a way of hijacking the independence of artists. The challenge that national, international or New York galleries have had in L.A. is not unique to those galleries. I'd go so far as to say that it's not the best place to have a commercial gallery."
Mr. Schimmel is widely considered to be one of the world's finest museum curators. His name will be on the door when Hauser & Wirth's space opens in 2015. Hauser & Wirth has long had an office in L.A., because when it opened in Zurich in 1996, its program was built around artists working there, including Paul McCarthy, Jason Rhoades and Diana Thater. Iwan Wirth, the gallery's co-founder, speaking from the Art Basel fair in Switzerland, called his planned expansion to L.A. "a homecoming." It was Mr. Schimmel's 1992 survey at MoCA, "Helter Skelter," that widened the perception of what L.A. art means and served as Mr. Wirth's introduction to a certain style of art that he said is "still the epicenter" of his program. He added that he decided to start a gallery in L.A. not "because we wanted to expand; it was because Paul became available."
The arrival of one of the art world's most powerful commercial enterprises—Larry Gagosian, who had an L.A. gallery in the late '70s and early '80s and grew up there, reopened there in 1995, before his world dominance—is a signal that, no matter how difficult it is to run a gallery, the entire L.A. art world will only continue to get bigger, literally if not figuratively. Certainly Hauser Wirth & Schimmel will be huge: "I don't think you can have a small space in Los Angeles," Mr. Wirth told me before mentioning happily how cheap the rents are. Homegrown galleries are also expanding. David Kordansky, a former CalArts student who runs two conceptually minded galleries off La Cienega, will move into a 15,000-square-foot warehouse on La Brea in the fall of 2014. (It used to be Impact Stunts, a choreography studio run by Jackie Chan). The idea is to strike a balance between this kind of growth and what Mr. Kordansky deems the "fuck that, we're gonna do what we want" spirit of Los Angeles, to avoid the commercial trappings of New York, where everybody—even the big guns—has to sell a lot of art to pay for prime real estate.
"In L.A., there's this manifest destiny notion of individuality and freedom," Mr. Kordansky said. "Even the bigger galleries, the Regen Projects, the Blum & Poes, we're still not operating by the rules of New York. And it's not an us against them kind of mentality. There's just less parameters out here."
Part of this is because there are still undeveloped areas in Los Angeles, but also because rents are cheaper. It's a matter of supply and demand—there are fewer people spread out over a larger area of about 470 square miles. New York is governed by finances. You move to New York to have a career. You move to L.A. to live out a fantasy.
"There's still room to make mistakes," Mr. Kordansky said. "There's still room to fuck up. To just be a human, in a sense."