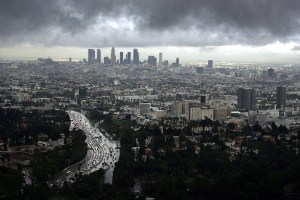 On my second day in Los Angeles, I met with John Baldessari. Along with Ed Ruscha, Mr. Baldessari is the most respected of L.A. artists, but he hates being called that, just like he hates being called a conceptual artist, an attitude that particularly seeps through in his early works, like poorly composed photographs with the word "WRONG" printed neatly beneath them.
Mr. Baldessari is 82 and as tall as some professional basketball players, with chin-length white hair and a big beard. His studio, a cobweb of steel designed by an employee of Frank Gehry, sticks out among the squat bungalows lacing the narrow streets of Venice. He showed me around, speaking in a surfer's drawl. It was one of those perfectly laid-out examples of California architecture where you could almost feel the room exhale as you entered it. There was a small rock garden, a gym, a room upstairs with a couch where Mr. Baldessari naps (he's up just after 5 each morning to the read the papers), an enormous Chinese chili pepper that Tom Waits gifted him (along with a sarcastic note promising that one day they'd both be famous), stacks of books and a surprisingly small number of artworks. In a corner, an assistant was silently putting the finishing touches on a painting of the word RISOTTO beneath a silkscreened photograph of a third-world militia.
"It's a bit fancy for me," Mr. Baldessari said of the studio. "I just wanted a big box, but you can't do that here. You have to kind of tart it up."
He's most famous for filming himself writing the phrase "I will not make any more boring art" in a notebook, and for cremating all the paintings he made up until 1966. ("I didn't need them," he told me.) He sighed when he said everyone outside of L.A. assumes that L.A. artists are "lotus-eaters." He uses laziness as a trope, but only to prove that he's secretly smarter than everyone—as in, he won't be ignored, but he doesn't need your praise. Unlike a lot of the more obscure artists on the West Coast (people like Kenneth Price and Jason Rhoades, who were criminally delayed in receiving their dues), Mr. Baldessari has been highly aware for decades of how the art world functions as a business and how artists are commodities. (He resigned from MoCA's board because of Mr. Schimmel's departure as well as the creative direction the museum was headed in after it announced a planned exhibition on the history of disco.)
"There are certain artists, I guess we know who they are—we talk about guys having trophy wives, they make trophy art," he said. "At one of the Venice Biennales, at some function, Eli Broad introduced this guy to me, a Russian billionaire. The first thing he said to me is, 'I own a work of yours that's the most expensive of any of your work.' So I'm curious about what that would be—and he didn't know what it was. So he called his wife over and he said, 'Can you describe that piece that we have?' She said, 'Well it's in our New York apartment and it's out in the hall.' That's all she could say! It's not about art. It's about owning something that's really expensive."
"Is it something you can ignore?" I asked him.
"Well, like you ignore cancer," he said. I chuckled here, but he didn't. "I mean you can't ignore it. But you don't dwell on it."
L.A. is less provincial now than ever before. (Not that there haven't been casualties—last year, Mr. Baldessari's Los Angeles dealer, Margo Leavin, closed her shop after more than 40 years because of the rise of international art fairs and super-galleries) Mr. Baldessari used to tell his students that if they wanted to have a career as an artist, they had to move to New York. It used to be possible to do that without a day job or a trust fund.
"There's a time for art here that doesn't exist in New York anymore," said Sam Falls, who recently relocated to Los Angeles from New York. He's not the only young artist to do so—Jacob Kassay, David Benjamin Sherry and Matt Sheridan Smith are other recent migrants. "In the '60s and '70s and '80s, you could get space and have a community, but now I think in L.A., that's becoming more and more of a thing. There's less of an expectation for commercial success." Also absent is New York's "social guilt," as Mr. Falls put it, that compulsion to be everywhere at once. "You know, it took an hour to get out to see your friend," he said, "you might as well not just visit the studio for 30 minutes. Stay awhile."
The molasses flow of traffic, arguably L.A.'s greatest landmark, makes it difficult to gather a critical mass. It was strange being there to cover an art fair, something that by definition requires a herd. L.A. has historically been a bad town for these events—but the inaugural Paris Photo in April was not a bad start. More people attended the opening night than was expected, which was good until everyone attempted to leave and wound up in a three-hour-long wait to retrieve their cars from the valet. But the fair's location at Paramount fed into the notion of L.A. as a long daydream and forced the entertainment industry to pay attention.
"People make the assumption that because there are creative people who work in the film industry, they're going to be interested in contemporary art," Dean Valentine, a collector and the former president of United Paramount Network, told me by phone last week. "Guys like Jeffrey Deitch come in here and think they're gonna do all this Hollywood stuff and get all these donations, but it just doesn't work that way. The film business is mostly a business of people who know nothing about anything. You don't become an actor because you graduated Phi Beta Kappa from Princeton."
At Paramount, I walked through the studio's "New York" back lot, where a section of the fair was being held and which housed all the fake apartment façades, subway kiosks and corporate buildings as well as a Safeway-esque storefront. The fair continued inside a set of giant warehouses, where I saw Perry Rubenstein, who closed his Chelsea gallery in 2011 and opened on Highland Avenue. He's since been preaching the gospel of Los Angeles.
"Artists have left school, and they've looked at Bushwick and they've looked at Studio City, and they've said, 'I'm moving to Studio City,'" Mr. Rubenstein said. Before he left New York, he said, "I was visiting an artist I was recruiting out here—and I was living well—but I called my wife and said, 'This guy's living better than we are and he doesn't even have a career yet.' If you left Cal-Arts and you were part of Baldessari's original group, he told you to leave. He said you must go to New York. They don't tell you to do that anymore. I think New York has overhyped its intellectualism. I think we've convinced ourselves, in order to deal with living there, that it's the center of the universe. And it's not."
A few hours before I had to catch a flight back to New York, I went to visit Henry Taylor, a figurative, sometimes slightly hallucinogenic painter. His studio is in Chinatown, and he leaves the door wide open for anyone to stumble in.
He had just returned from a trip to Cuba. I mentioned my story about artists from New York wanting to move out here. He said he was contemplating getting an RV and traveling around the country for the foreseeable future. I told him I could get used to the constant sunlight and warmth of California. He reminded me that the days get shorter in L.A. during the winter.
A guy who sometimes works as Mr. Taylor's assistant walked in carrying a guitar and a bottle of painkillers he'd found on the bus. Mr. Taylor knew of a party in Beverly Hills.
Evening arrived suddenly. A feeling of intense melancholy overtook me as we wove through the traffic on Sunset. I'm not sure of the exact source. I think it was homesickness.
mmiller@observer.com