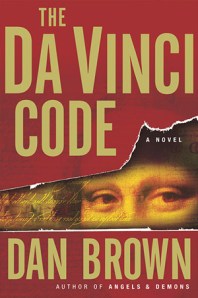 Author Dan Brown books are often described as "blockbuster novels." But how did the author of bestsellers such as The Da Vinci  and Angels & Demon learn how to write "blockbuster novels" in the first place?
Easy. He read a book called Writing the Blockbuster Novel. 
"Almost 20 years ago, I was halfway through writing my first novel, Digital Fortress, when I was given a copy of Writing the Blockbuster Novel, by the legendary agent Albert Zuckerman," Mr. Brown told The New York Times Book Review. "His book helped me complete my manuscript and get it published."
But when Mr. Brown recently met Writers House founder Mr. Zuckerman, the agent wanted credit for a different book.
"Two months ago, by chance, I met Mr. Zuckerman for the first time. I gratefully told him that he had helped me write Digital Fortress," Mr.Brown said. "He jokingly replied that he planned to tell everyone that he had helped me write The Da Vinci Code." 
Although Mr. Brown said that he doesn't read self-help books, it seems that when it comes to writing help he is all ears. Looks like Mr. Zuckerman's advice worked.