Organized by painter Josephine Halvorson and borrowing its title from John Gutmann's 1937 photograph of the same name, "I Am the Magic Hand" brings together work by six artists who share the same joyful faith in graphic pleasure, unburdened by any false opposition between seriousness and humor or between substance and wit.
Carmelle Safdie began sneaking into a neglected Jewish cemetery in 2011 to take pastel rubbings of the gravestones. July 2, 2011, which showed at the Queens Museum last year, is a bright red impression of a heart filled with Hebrew and English letters memorializing one Lillian Cohen, who died in 1927. It's also a shocking and transcendent act of magic: Ms. Safdie finds a way to touch death, transience, authorship and Jewish American identity in a way that captures their complexity and even suggests much of their depth without being captured in turn by their gravity. In the present show, Ms. Safdie levels the same tangent against her own process, displaying three floor-to-ceiling color studies on butcher paper. Fragments of meander blue crowd the top of Color Options for April 24, 2013 like a torn up coffee cup, surrounded by smudges and fingerprints around the words "OUR MOTHER"; Leaf Motif 6, in the middle, makes a stately pattern by repeatedly rubbing the same decorative leaf, five times in bright, delicate colors and 26 times in black.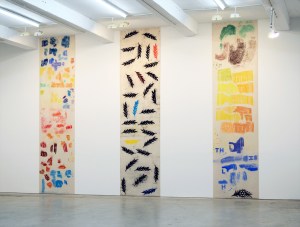 Jane Corrigan's Two Men in a Field, one of four delightful small oils, shows two men on a heath doing a kind of square dance, arm in arm—you can almost hear the dopey soundtrack. But the warm brown colors, the generosity of Ms. Corrigan's brushstroke, and the precision of the painting's composition are all completely sincere; if the figures are more caricature than human, it's only because, like transparent fish deep under the ocean, they're creatures of their medium.
And Allison Katz contributes five straightforward but lush typological still lifes, Cabbage (and Philip) numbers 2-6, each displayed on the sawed-off corner of a table specially constructed by Liudvikas Buklys and mounted on the wall. Each painting pairs a broadly but carefully rendered head of cabbage or a single, dark green leaf with a shadowy, cartoonishly abstract profile of the artist's husband. Is it discreet domestic transcendentalism, disingenuous painterly self-deprecation or elliptical domestic satire? (Through July 12, 2013)