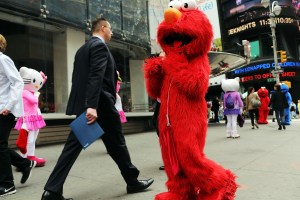 Remember the crazy Elmo in Times Square? The one who was busted for his anti-Semitic diatribes? Well, he's back, and this time his beef is with the Girl Scouts.
Dan Sandler, 49, was indicted yesterday for trying to extort $2 million from the organization, along with harassing and stalking a Girl Scout employee with "threatening" and "bizarre" emails and phone messages.
Mr. Sandler attempted to blackmail the organization into pumping his bank account, threatening to publicize false allegations if it didn't comply, Manhattan District Attorney Vance wrote in a press release.
Among his false claims? That the Girl Scouts frequently arranged "sexual encounters" between adult men and underage girls at scout camp.
"I did the same thing to Pfizer as the Girl Scouts but they never made a complaint about it they just gave me a lot of money," he allegedly told an officer who arrested him on Tuesday. "I should have gone to law school."
According to court documents, the Girl Scouts hired Mr. Sandler back in 2007 through a temp agency, but long after his work ended in 2008, he sent emails to his supervisor expressing his "infatuation" for her. Additionally, he threatened to publicize a false claim that the she had hired him and allowed him to interact with underage girls, even in the knowledge that he had "operated a pornographic website" while living in Cambodia.
Mr. Sandler, who has been living in his car, pleaded not guilty to charges of attempted grand larceny in the first degree, aggravated harassment in the second degree, and stalking in the third degree. His lawyer, Lawrence Gerzog attempted to secure his release on grounds of insanity.
"This case is a case involving, obviously, mental health issues," Mr. Gerzog said to the Daily News.
But Manhattan Supreme Court Justice Robert Stolz was not impressed, locking bail at $200,000. Mr. Sandler's court date is set for June 13.