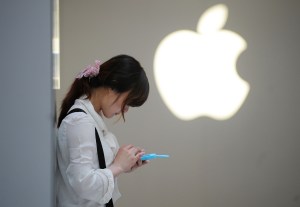 Apple's latest slogan may have promised "All the power you want, all day long," but we doubt this is what it meant.
According to a new column in The Villager, the Apple Store at 14th and 9th is apparently very popular with transgender sex workers, who like to use the facilities for its central Meatpacking location and snazzy facilities.
"They come in all dressed up and use the A/C and the free Wi-Fi, too. They check their status [on Facebook]," an employee told the paper, before deriding the fashion sense of the village gals. "They're pretty recognizable because they're the worst dressed—I mean, most scantily clad."
The paper argues that the available Internet is a useful tool for the women, having moved their operations online in recent years in order to lower their risk of arrest when meeting potential clients.
But don't we all, sex workers or not, need to cool off in the summer heat?
Curious, we dug a little deeper to see if other people have witnessed the same thing. We called the store, and unsurprisingly, they didn't comment.
Then we checked the store's Yelp reviews and stumbled upon this insightful gem from user Shane H from 2008: "Hell – I'm impressed that they allow pre-op tranny hookers to use their phones for free, for as long as they want!! Kinda reminds me of the old meatpacking district – it's nice to know Apple is keeping it old school up on 14th street."
All this, of course, assumes that the women are actually sex workers. There seems to be a trend to call any trans woman a sex worker, at least according to Michael Silverman, executive director of the Transgender Legal Defence and Education Fund. "It's a very common thing for people to assume that trans women are sex workers. They are often targeted in this way," he told The Observer. "I find it unlikely that these women would have been in the trade."