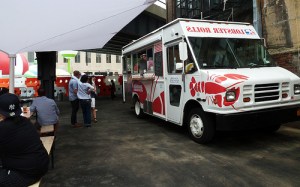 The world is their lobster.
The Daily Meal has voted Red Hook Lobster Pound's lobster-mobile the best food truck in America for 2013, after examining 450 trucks in over 40 cities.
Unsurprisingly, New York City dominated the list, with the Big Gay Ice Cream Truck coming in fourth, The Cinnamon Snail at eight, Schnitzel & Things in 11th place and Wafels & Dinges at lucky number 13. Red Hook Lobster Pound moved up from 11th place last year.
"I'm absolutely thrilled," Lobster Pound owner Susan Povich told The Observer. "It's great to be recognized for the hard work that we do. We have a great staff, and we work hard to maintain our product, our quality and our authenticity."
The Daily Meal compiled the list by examining such factors as Twitter and Facebook followers, menu innovation, concept, and geography. Also, only full-fledged trucks were considered. Per their website, "If it needed something to pull, drag, push, or carry it, if it wasn't on four wheels and couldn't move on its own power from parking ticket to parking spot? Gone."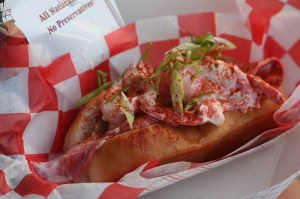 Ms. Povich's truck serves the Lobster Pound's famous lobster rolls, served Maine style (cold with celery, spices and homemade mayo), Connecticut style (warm and slathered in butter), or Tuscan style (tossed in basil vinaigrette on a bed of greens). They also offer shrimp rolls, a lobster BLT, lobster Mac and Cheese, New England clam chowder, and other deep-sea delectables.
Ms. Povich boiled down her secret to food-truck success for The Observer.
"You just gotta keep true to what you do," she said. "I always tell people who ask me about opening food trucks that unless you're serving fabulous food, it's not a good business. You have to stand out by what you serve and how you serve it. It's all about the food and the relationship with the customers."
Their truck, nicknamed "Big Red," is at 46th and 6th Avenue today, in case you want to take a crack at it. Tomorrow is National Lobster Day, after all. What better time to shell out?