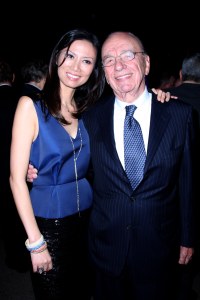 Rupert Murdoch's decision to divorce Wendi Deng Murdoch makes official the long-rumored breakdown of their relationship.
But it was not always that way. Years ago, when I was invited to visit their imposing loft apartment, I was struck by the atmosphere of domestic bliss that the titanically powerful couple had created.
I was meeting Rupert's daughter, Elisabeth Murdoch, head of the UK-based production company Shine. We were discussing a possible television adaptation of Chic Happens, a fashion gossip column I was co-writing at the time with Horacio Silva, who spent ten years at the New York Times' T magazine.
Arriving at the Prince Street address, I realized with alarm that we didn't know the Murdochs' apartment number.
"Just hit the top buzzer," Horacio suggested and…well, duh.
Ms. Murdoch was slightly surprised when we ascended to her father's triplex penthouse in the freight elevator. In my nervousness, I had assumed the cage-doored contraption in the lobby was a charming nod to the bohemian-billionaire SoHo vibe?
But no, we had just taken the wrong elevator.
The loft was warm and blended Australian and Chinese décor. Murdoch pere renounced his native citizenship in 1985, but his birth country dominated the space, from oil paintings of outback scenes to shelves of Australian-themed books. Even the muted color scheme seemed to be drawn from the dun hues of the parched Australian countryside.
Striking Chinese jade sculptures popped against this backdrop of gray and brown. A fold-up stroller, stowed under the baby grand piano, added another homey touch. The Murdochs' daughter, Grace, was barely one at the time, and in the guest bathroom was a gag New York Post cover of Rupert holding the baby with a headline implying he'd kidnapped her.
It was a remarkably harmonious environment, which suggested the presence of people who loved each other.
Then Elisabeth asked what we'd like to drink, and things started to go south.
"White wine," we said, and kicked each other under the table when she called her father to ask where he kept the grog.
Elisabeth retrieved a warm and rather grand-looking bottle of white Burgundy from a cupboard and asked me to open it. Walking into the kitchen, I noticed how perfectly the Empire State Building was framed in the window above the sink. I don't imagine Wendi spent much time wearing rubber gloves, but it would have been a very pleasant sink at which to do so.
It took me a couple of minutes to find a corkscrew, during which I could hear Horacio keeping up his end of the conversation. And then, disaster.
The ancient cork disintegrated at the first touch of the screw, crumbling into the bottle. I was already on edge from having arrived in the rickety service elevator like I was delivering a donkey, and now I'd ruined Rupert's bottle of wine. I started to panic.
Frantically I rifled through cabinets until I found a glass pitcher. Over that I placed a paper towel, and was attempting to filter the wine through it when Elisabeth walked into the kitchen to see what was taking so long.
I can't remember what she said—something gracious, no doubt—but the look on her face was as if she'd just found me standing in front of an open bird cage, eating her budgerigars.
The rest of the afternoon is a bit of a blur. She made us gin and tonics instead, which I knocked back in one and was immediately drunk.
After another hour Rupert himself showed up, and not via the freight elevator. I shook his hand and was struck by the softness of his skin—it was like squeezing the face of a baby.
Wendi was not with him, but we took his arrival as our cue to leave, and tumbled back onto Prince Street, trying to wait at least half a block before collapsing with laughter.
P.S.—we didn't get the show.