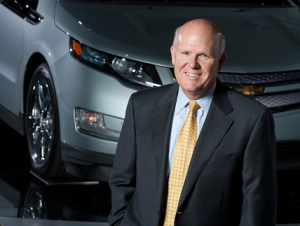 General Motors' CEO Dan Akerson wants to turn all cars into rolling iPhones capable of automatically scheduling their own oil changes — nevermind the fact that AAA yesterday announced findings that even hands-free devices cause driver distraction.
Mr. Akerson told the totally chill and low-key Chief Executives' Club of Boston that integrating 4G technology with automobiles is crucial because people spend 2.5 hours per day on their smartphones and tablets, and only 16 hours a week in cars, Reuters reports.
GM cars already have OnStar technology, but in mid-2014, the car giant will team up with AT&T to embed 4G LTE mobile broadband "for faster flow of data that GM says would allow passengers in the backseat to watch streaming video," Reuters says.
So your kids can watch David After Dentist while they're high in the backseat on the way home from a root canal. The Internet comes full circle once again!
And GM's not stopping there. From Reuters:
"'Imagine that your vehicle can predict that it needs a new battery and then automatically schedules a visit to your dealer before it dies on the (Massachusetts) Pike in rush hour,' [Mr. Akerson] said.
"'How cool would it be to have your car automatically call Dunkin' Donuts when you're a mile away, so your coffee and cruller are ready and paid for when you pull up?' Akerson added."
And how degrading will it be for the poor Dunkin' cashier to have to take an order from Siri so that important, busy motorists can get in and out as quickly as possible?
Either way, we're all for tech advances in the automobile world — as long as drivers stay safe, and the new-fangled car-robots don't go all Smart House.