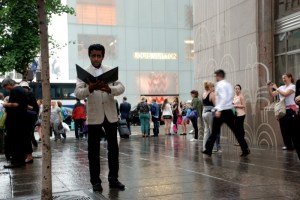 It's finally here: the first day of summer, the summer solstice, the longest day of the year. Highs will be in the 80s all weekend, and it will be mostly sunny. This is going to be a weekend to be outside. Happily, there are quite a few al fresco performances on offer.
FRIDAY: Tonight High Line Art will host performances of Mungo Thomson's Crickets piece, which features a chamber ensemble playing music based on recordings of those insects. Performances are on the 14th Street passage of the elevated park, at 7 p.m., 7:45 p.m. and 8:30 p.m., which is the time of sunset tonight.
SATURDAY: At 7:30 p.m., Kevin Beasley will perform at Bushwick's Interstate Projects, where he has a work called …all different: for I do, I suppose, partake of multitude, "a site-specific installation made from 30 varying wind chimes and a performance building live feed from the installation and pre-recorded sound bites," as the news release puts it. It's being presented by the Cleopatra's curatorial outfit as part of Interstate's "6<<<>>>6" exhibition. Should be a nice time.
If you're more of an air-conditioning type, Emily Segal will be present her second lecture at MoMA PS1 as part of "Expo 1" at 4:30 p.m. It's called "Who wears all black?" and "focuses on video related to the 'new' luxury, trading up and disappearing in the middle class, being cool, expensive denim, and fashion-related metaphors in business." Her first lecture, "What's the energy of your energy drink?," was a blast, so expect big things.
SUNDAY: Edgardo Aragón, whose show at Laurel Gitlen closes on Sunday, will perform a work called La Encomienda outside the Tiffany store at 57th Street and Fifth Avenue at 4 p.m. Judging from the photo above, it looks like it'll really be something.
Get out there and enjoy yourself!